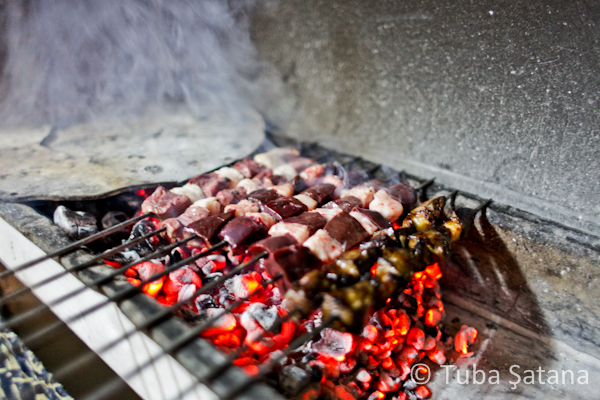 5.00am, first buzz, snooze. 5.15am again then jumped out of bed around 5.30am remembering why!  I was on my way to Ali Haydar for morning liver kebab! How could I forget!
I took a taxi and at 6.00am and one minute later I was in front of the small, smoky, shabby place. No sun yet, just a rising, birds around, streets empty, only the small baker next door is working. Almost full with locals, some students sitting outside munching on their kebabs, while the elder locals sitting inside, chatting with Ali Haydar, the man of the hour!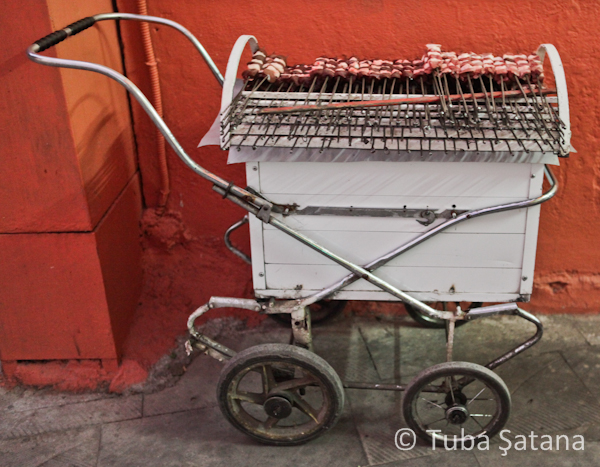 While eye balling my kebab, which to choose from this small funny looking cart, Bayram Usta joined me for this lovely feast. Bayram Usta is like a big brother to me, he is a baklava master over 30 years and the partner of the famous and Güllüoğlu Baklava. Jokes, peppers, smoke, liver, more liver and more…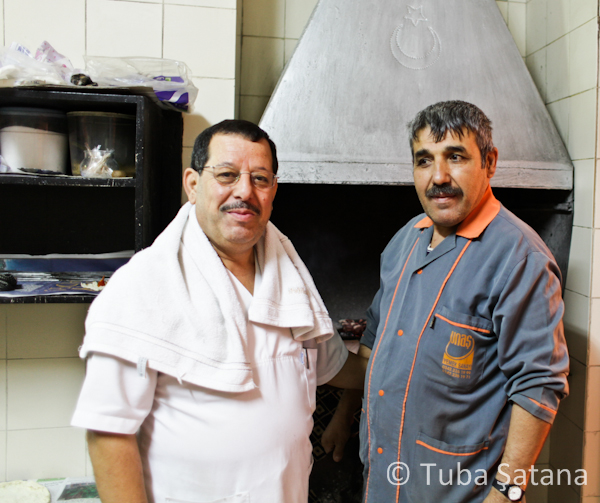 To start with, I passed on two skewers to Ali Haydar Usta, making myself a place at the table, chatting with the locals. My ciğer kebap arrived on a half küppan, making room for more. Küppan is a kind of bread, no crust, round and puffy, smooth as silk. Baked just next door. Sprinkled some parsley and made myself a wrap, enjoying every bite of the charcoal barbecued liver pieces and fat. Moist, almost bloody, juicy, scrumptious. Just my kind of breakfast!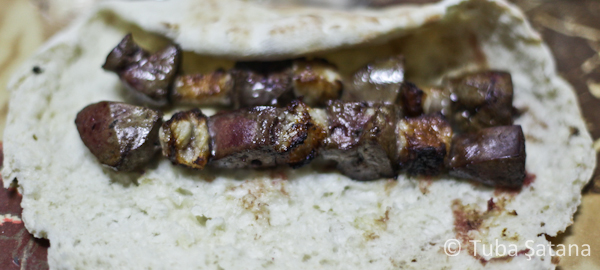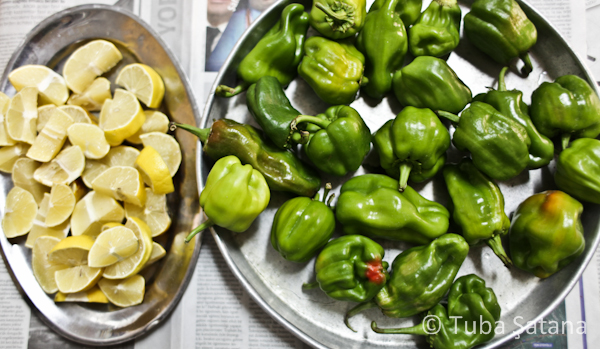 Some peppers, mild spicy to wash it down, drips of lemon juice to wash over the fat, the tail fat. One more skewer won't hurt anyone, I will be missing this breakfast then my city kind of breakfast anyway. So more guilty pleasure for me, please…
While eating, I was watching the movement around the big copper pot, full of ciğer kavurma, spoonfuls of  it being layed in the folded tırnaklı ekmek. The kavurma prepared with liver, suet and little bit of lungs. Not to mention, onions and spices. A true delicacy!
At Antep, your breakfast is either ciğer kebab or beyran. Meat over everything.
Dreams coming true, the day begins with a protein shock.  People are happy, one of those moments you fell in love with Antep and its people.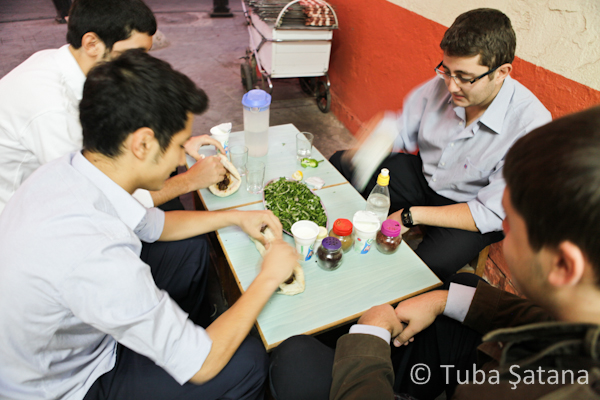 Address: Say Ali Haydar Usta, everyone knows. Open only for early bird, 5.00 am till 8.00am if there is any liver left, or early if not.
Now to the baklava factory!