You bite into the half lemon, catch that thought, then add sip of lemonade, there, you have the perfect tangy slurp of  the lemon ice cream of Yaşar Usta. It is not a shy from lemon ice cream, it is old school. Like all his  other fruit ice creams.
When we met with Yaşar Usta and his ice cream years ago, the melon was my first love. I felt like I am smelling a melon in a pazar. He brushes the skins of melons one by one before using them, he is a passionate man, Yaşar Usta. He does his job with perfection and love.
The strawberry ice cream is better then eating strawberry, for me.  The mulberry -these days may be you can put your hand on some- is sweet with the crunchy little seed popping between your teeth, the water melon – when in season- is great after a full dinner, like a cool breeze in a hot summer night, the orange -mostly in winter- is well, orange! Not to forget sour cherry, raspberry and fig – again when they are in season-. All fruit ice creams are made with fruit and sugar. No milk, pure fruit. Like eating a frozen fruit only better, thicker and richer.
For his milk based ice creams he uses sugar, salep and buffalo milk. The caramel is one of a kind, it is the burnt flavor taking me away, to my childhood and I want to stay there. I almost cried when I first tasted it!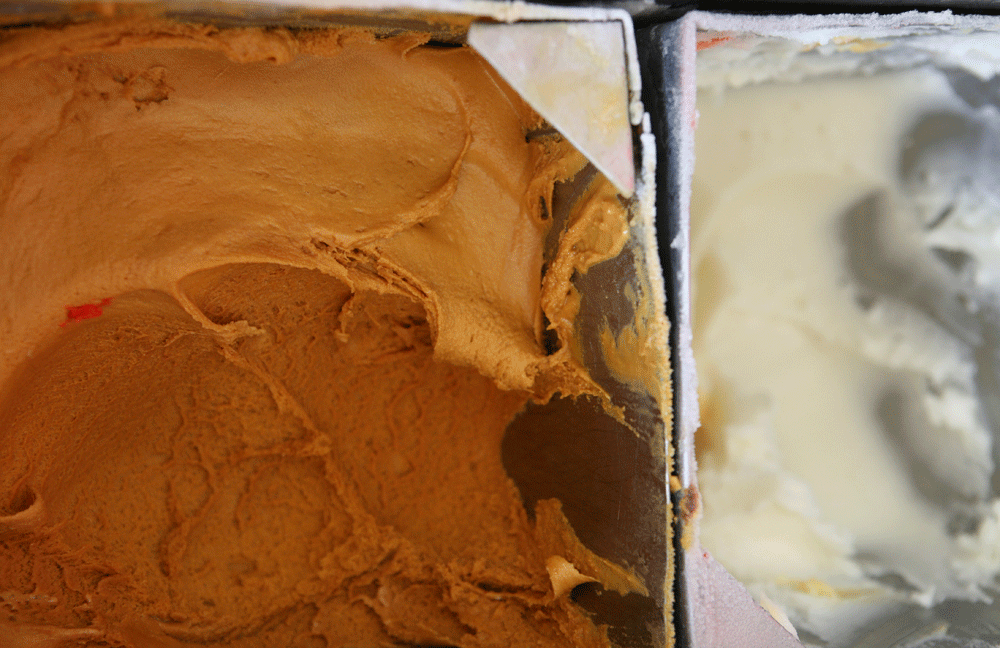 The walnut ice cream is better then any walnut dessert, he also makes tahin ice cream, which has its own customers, you feel eating a cold spoon of sesame paste, only nicer, smoother.
He experiments and does all sorts of ice cream, he believes it tastes good. For all of his ice cream he neither uses additives, nor coloring, nor preservatives. He does with the best ingredient which is available.
Ice cream is never simpler, tastier, better. A true artisan my Yaşar Usta is!
Address: Prof. Dr. Ali Nihat Tarlan Sk. No:34, Bostancı, – yes that small stall in front…
Service hours: Late spring early summer he opens his stall, then when autumn starts turning winter he closes. Open around noon till midnight, mostly. He makes home delivery, during winter, when his small stall is closed for the season.