Pistachio, fıstık, is a true delicacy and one main ingredient for baklava, in Gaziantep. The pink smooth skin covers the shelled pistachio inside which still has a softer skin then the usual roasted one.
The ones which have already cracked, growing their way outside he skin, pressuring it to open its mouth, called çıtlak and preferred by the locals. There are many street seller in the city, walking around heaped carts, with the eye catching contrast of blue nylon and pink pistachios.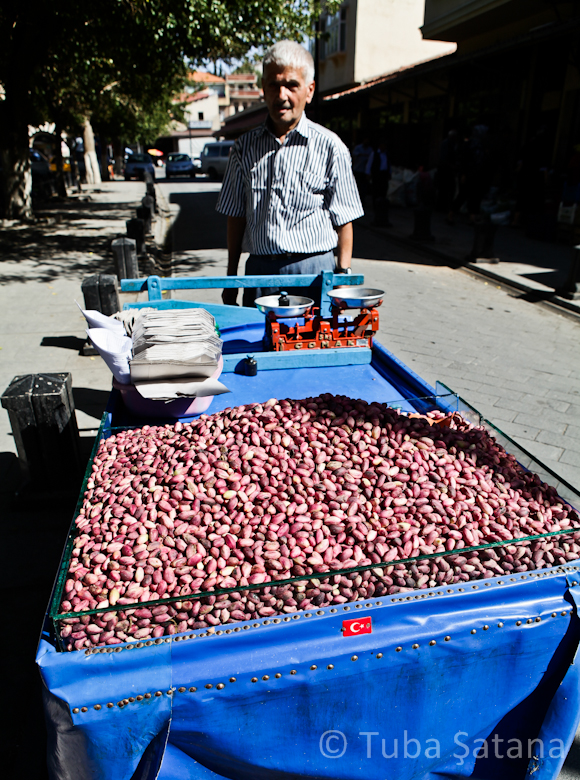 The fruit is hidden inside the pink skin, then the semi soft outer skin. It has a taste like any other, mellow, moist and a little fatty taste, but bursting you with its flavor, the fruit inside has all the tones of green. The more vivid green, the more it has a unique taste, yellower green the taste becomes lighter. As I told these are the fresh ones, not roasted, so they are not salted and I prefer this other than the roasted ones. The fıstık season has ended so, these are the last ones I could catch in Gaziantep.
Now, this particular gadget is for cracking open the pistachio shells rather then trying to break you teeth, trying to get the delicious fıstık out from its skin, if the shell is closed, or you do not want to ruin your nails. As seen, it has many kinds made from brass, metal and  covered with hand decorated figures, motives…
Will be back for more delicious Gaziantep.