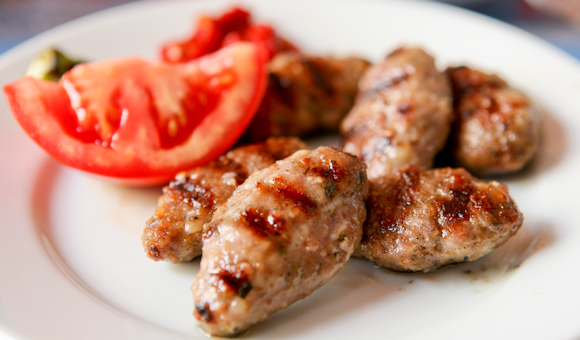 In Büyükada, you supposed to eat fish, right? Wrong!
The lining restaurants at the seaside, which apply different fees to different kinds of customers, you never know which one you are till you get the bill, you may end up paying an unexpected amount of money, to an unworthy meal. The annoying-greeter-employees, standing in front of the restaurants and shouting  'buyruuun' trying to grab us and everyone else walking  before them, inside their restaurants… being a local and rather hating this kind of behaviour, we escaped…
Since Büyükada, is an island at the end of the day you have couple of options to eat a decent meal and we decided to sit down at the small restaurant to try the köfte and piyaz. In the middle of çarşı, a small, intact, clean restaurant.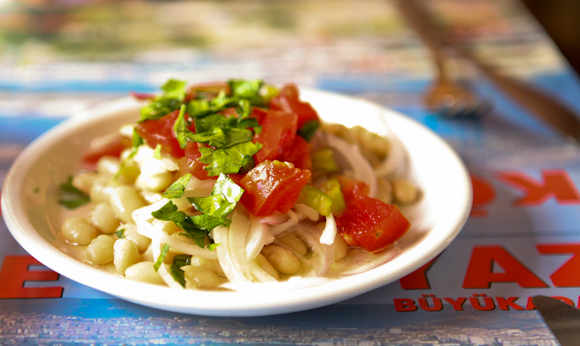 You may order soup, piyaz, köfte so we ordered one piyaz to share and 2 köfte. Actually after we tasted piyaz we understood it was a mistake, you want to eat more of that silky beans, danced in vinegar and oil, leaving you with a mellow robust. There I said it, it was wrong to order just one piyaz. While we were there couple of customers, locals just came to eat piyaz and left.
We were half way through by the time our köfte arrived. Köfte was accompanied with a pepper paste, and a slice of tomato. Later I learned it was specially made for Köfte & Piyaz. It was not one of  those industrial paste's, it was mild hot, peppery-of course- yet smooth and silky, I spread it on my bread and enjoyed it, then finishing what was on the other plate.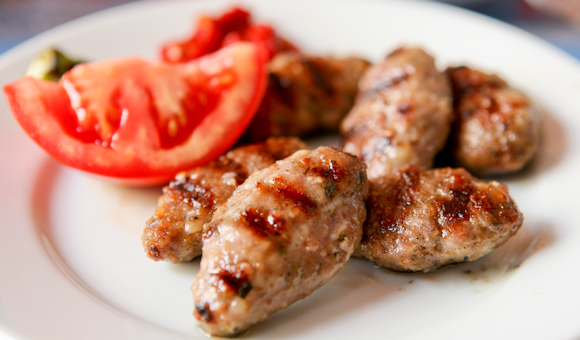 And köfte was so delicious, I can not forget it. It was cooked perfectly, a little pink in the middle, juicy, yet seared perfectly. But it is not only the cooking what made it so good, the meat was top quality, seasoned perfectly, as Bülent Sönmez, owner of this humble gem, telling me," no secrets, the meat is beef and it is good…" Well, it is very good!
Little chitchat, we sat there watching the locals arrive, ordering "the same", enjoying their meal, with their hands full of shopping bags… We were in the right place.
Life is good on the island, since you have Köfte & Piyaz.
Address: Şht. Recep Koç Caddesi, No:4/B, Büyükada
Phone: (216) 382 7184
Istanbulfood maps: It is one of these days, because of the Google issues we are facing in Turkey, I could not map the location. Just hang on…