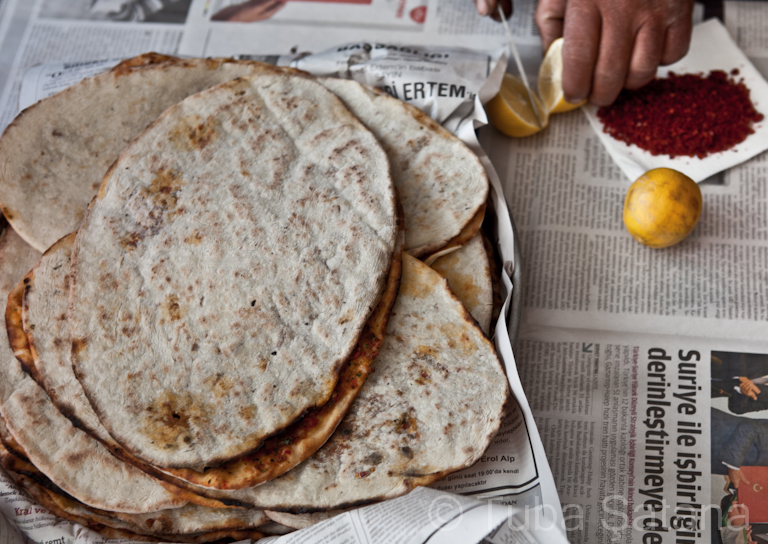 A sweet autumn noon, I took a bus to Oğuzeli to capture the the preparations for winter, wondering what is left out. After a bus drive for 40 minutes, I arrived the tiny town, without knowing it was such a small town… A little roundabout, baker, butcher, little grocery shop also selling fruit and vegetables outside, the streets deserted, some town people hanging around the butcher, no children around I guess they were at school.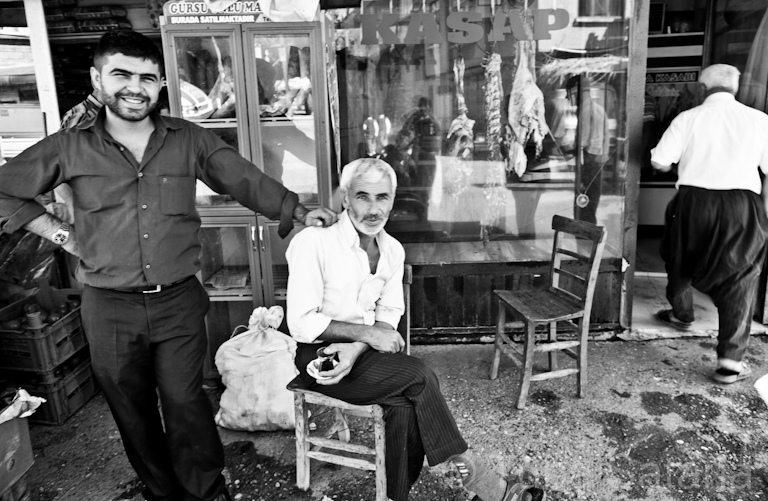 Soon I started my walk with Hüseyin, who is in the vegetable drying business, vegetables like cucumber, aubergines, Antep pepper, zucchini which are all staple for Antep locals during winter months. Those beautiful dry vegetables, needled on a thin string and hung up on the roofs. There were not much left though… But you have the idea.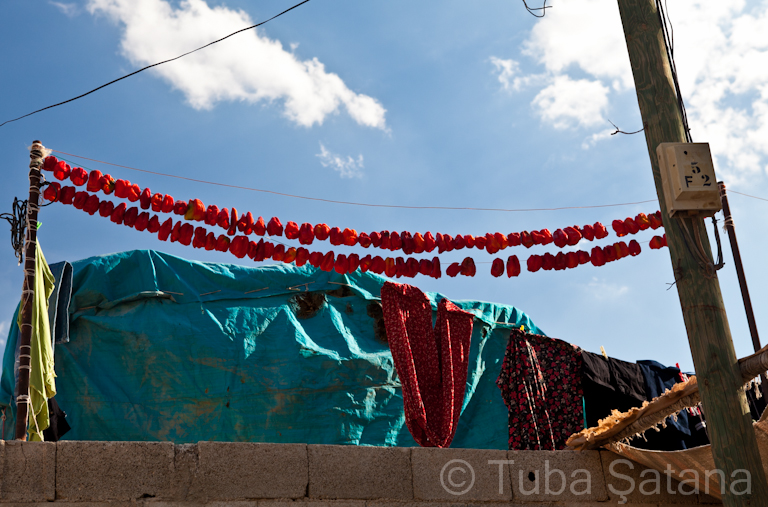 After the walk made us hungry,  I politely asked lahmacun for lunch. Knowing that lahmacun is made from scratch here in Oğuzeli, like old times, like when there was no lahmacun and kebab restaurants all around. You buy your vegetables, take it to butcher, he makes the topping of lahmacun, then take it to the bakery where it is finished.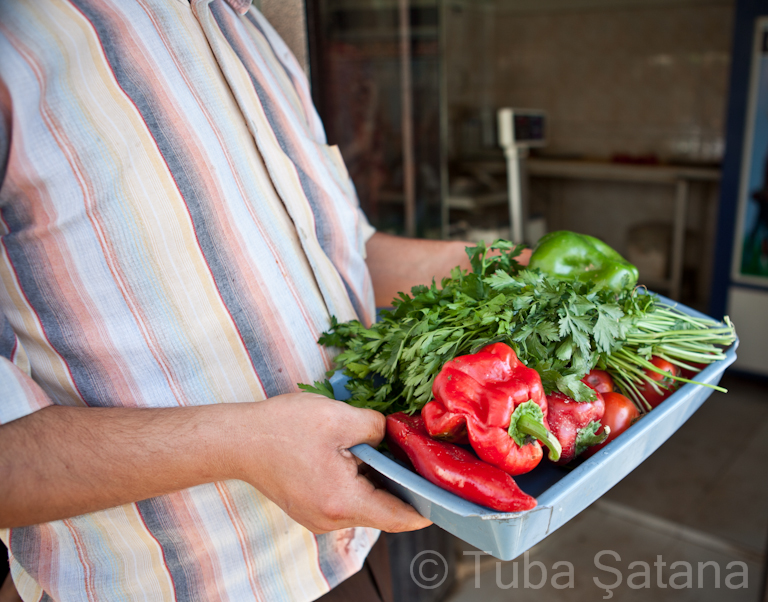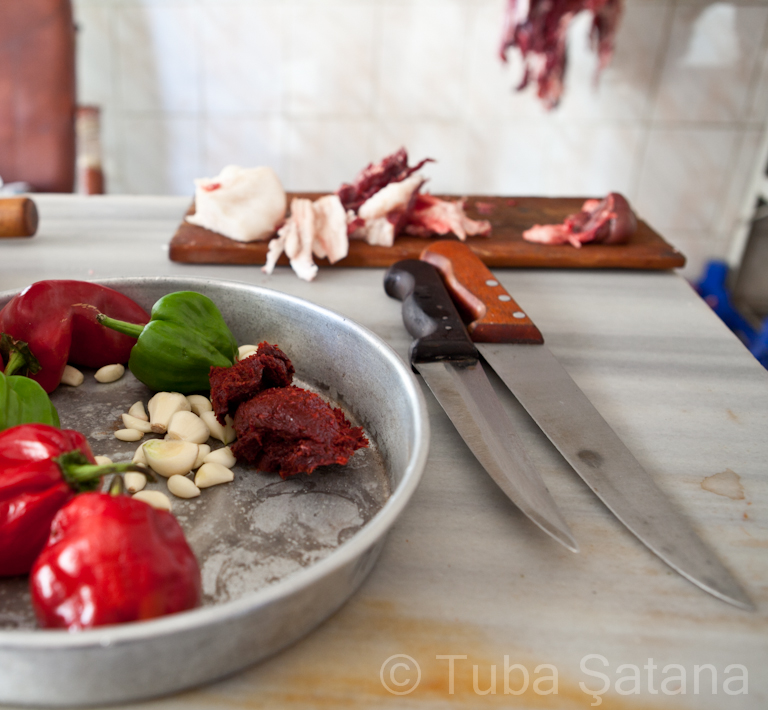 Hüseyin got his little tray and we went to the grocer to buy the zerzevat, meaning vegetables, and spices. Then to the butcher, feeling happy as a school girl waiting for candies only this is better than candy! He told the butcher how many lahmacun we would want, then left the tray to him. The butcher of Oğuzeli… I think he is everyone's favorite person in this small town, when you think about the meat consumption on every meal.
Cut some meat from ribs, some fat, and some from the brisket of a mutton carcass, then started cutting all  the ingredients with zırk. Everything is getting smaller and the tiny shop started to fill with the fragrance of garlic, Antep pepper, tomatoes, pepper paste then the fatty mutton meat. All you need a loaf of bread or a pide, to swipe all the escaping juices.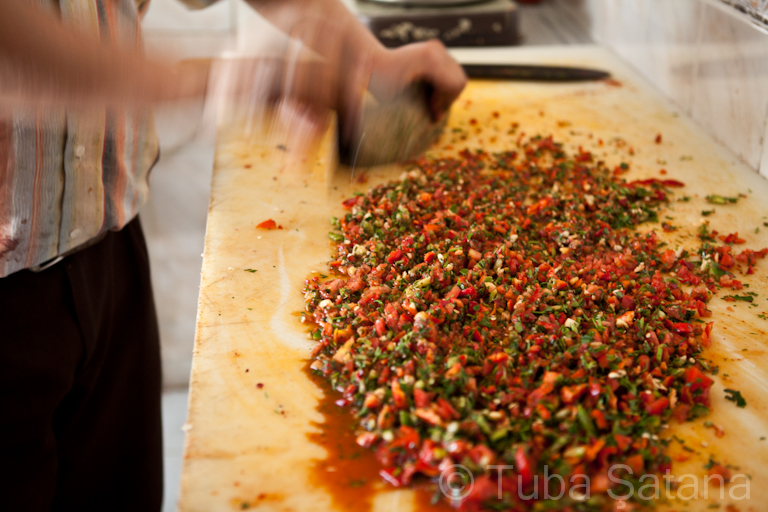 I was not the only one there, we were sharing the tiny shop with this small boy, standing quietly, waiting for his turn to come, for him to tell his mother's order. On the counter waited biber dolma, peppers filled with mince meat and hot pepper paste, waiting for its owner, they soon will be baked in the neighbourhood bakery as well. A humble lunch for a local. Jealous!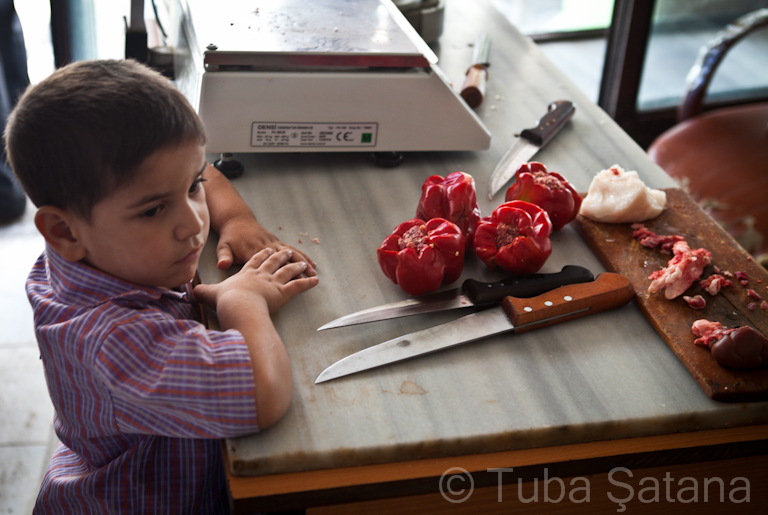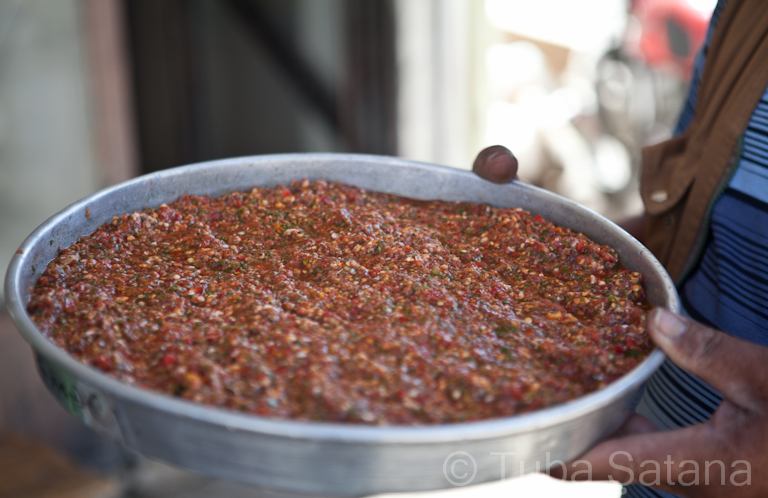 After all slurping, waiting, and praying he finished cutting everything with zırk, he put the mixture in the tray.  While hopping to the baker, right across the butcher and grocer I was testing my patient. This was too good to wait! At least I had my photo machine to stall me…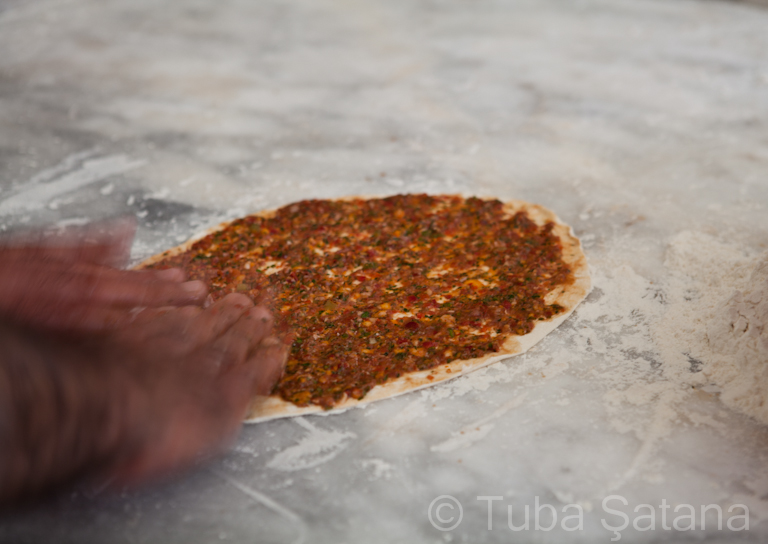 A little flour on the counter, the baker started playing with the lahmacun dough, stretching it, then topping it with our mixture, passing on to the shovel, soon they will be cooked in the wood burning oven. While I was there chatting, more trays arrived and lined up on the counter, waiting for their turns.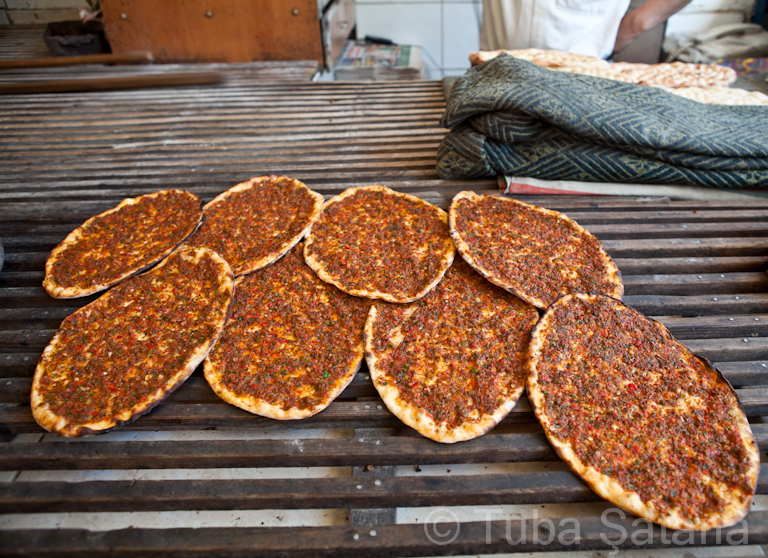 The taste… Well, there is nothing like a freshly made from scratch lahmacun in the world!
The mutton, the spices, the aroma, the taste of the wood, eating on the newspapers, the friendship over the table, everyone around stopping by for a bite, tucking in with your hands and the fat is dripping from your elbows…
There are no restaurants in Oğuzeli, but friends and a butcher, a baker, a grocer…