In  the good old days, when fathers or grandfathers took their sons or grandsons to a movie, they used to stop at Petek Büfe to grab a bite. But not any bite. The name was Artist! A hot dog sandwich, what made all the fuss.
As years passed they had to move their little shop twice, around Bahariye, Kadıköy.  Still they are serving the same menu, adding couple of more items. They still make their own sausage, Russian salad and mustard. The Artist, formed by a sandwich bread toasted in the machine, 1 sausage and topped with Russian salad and pickles.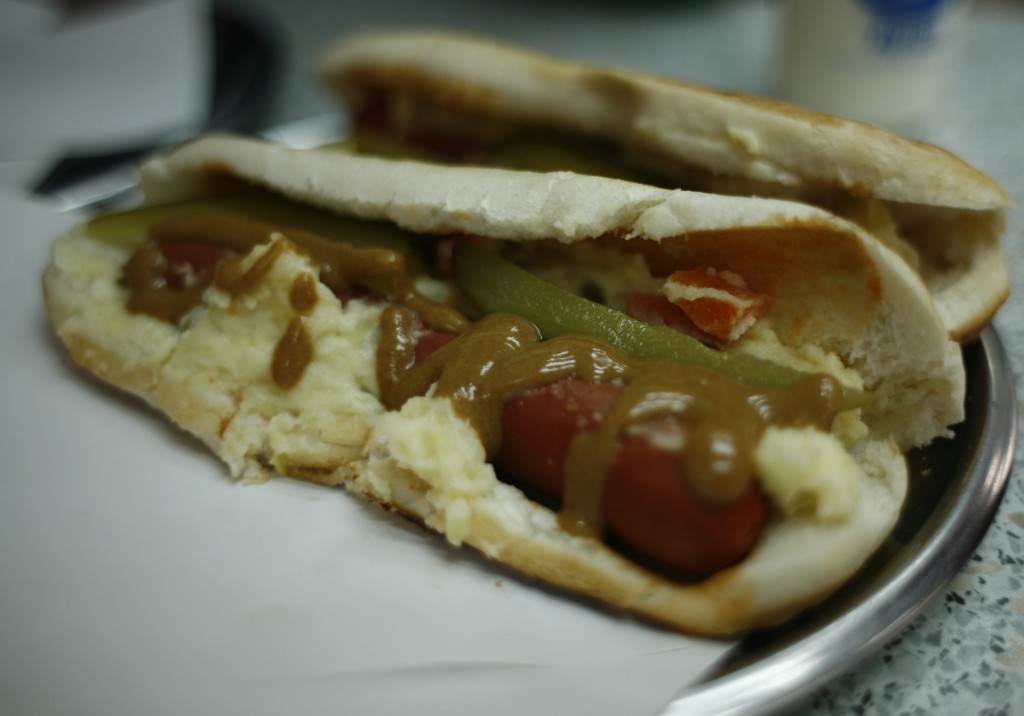 You ask for mustard, and the party begins.  The sausage is very tasty and well accompanied with the rest of the ingredients, one bite, and another, then you have Russian salad all over your face.  The best way to enjoy any sandwich is to get messy! You taste all of the ingredients, chumping on big bites, and order one more before you gulped down half of the sandwich.  Since my love for mustard  above any other, I help myself a generous amount.  The mustard is brown, very very spicy, but worth every tear. The artist and the mustard!
They have couple of more toasted sandwiches, mostly named by their customers and having coolest and funniest names like Zamazingo, Anjelik, Kozmik, Hazgül.
Like their customers, this place is the complete father to son establishmentstanding bold since 1956. It is a loyalty to stop there and fill our hungry tummy with this delicious grub and remember the good old days, listen to some memories told by the customers.
Address: Bahariye Cad, Sakızgülü Sk No:31/A, Kadıköy, Istanbul
Phone: (216) 3487 0538
Service Hours:  7.00am till around 9.30pm everyday