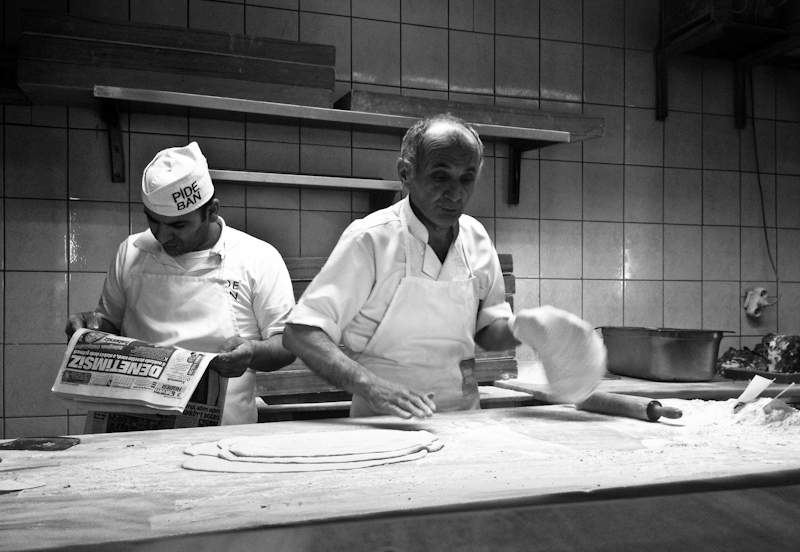 They all ordered kıymalı pide and a big jug of ayran, 5 workers in uniforms…
Fortunately we had arrived before them and ordered our share of pide. With each order you may hear Sami Usta pounding on the dough in the kitchen… One young waiter was cleaning the windows with newspaper, one panel at a time. No one else then us and the workers' downstairs, and the sound of the kitchen.
Waiting impatiently and sipping our ayran, soon the waiter appears with long long pides on his hand, piping hot. One and a half portion of kıymalı, one portion of kavurmalı… They were cut open lengthways and little knobs of butter left on top of mincemeat mixture melting its way…
I struggled to cut a big piece and soon after my first bite, butter dripping down on the plate, the taste of the dough, butter, mincemeat hypnotised me all along… It was so good! I was humming and trying to chew slower, enjoying every bite… The mincemeat and onions are so juicy, the dough is crunchy on the top, a little softer on the bottom. I did not even think of sipping my ayran, I just wanted to eat more.
A good pide like this is not easy to find, and when we do, we stick on to the place, usta, memories, the old radios, the old pictures of Istanbul, a family run establishment…
Telephone starts to ring off the hook as the clock shows noon. He was still unfinished with the windows by the time we paid our bill…
Pideban Address: Bahçeköy Caddesi No:1 Çayırbaşı, Sarıyer