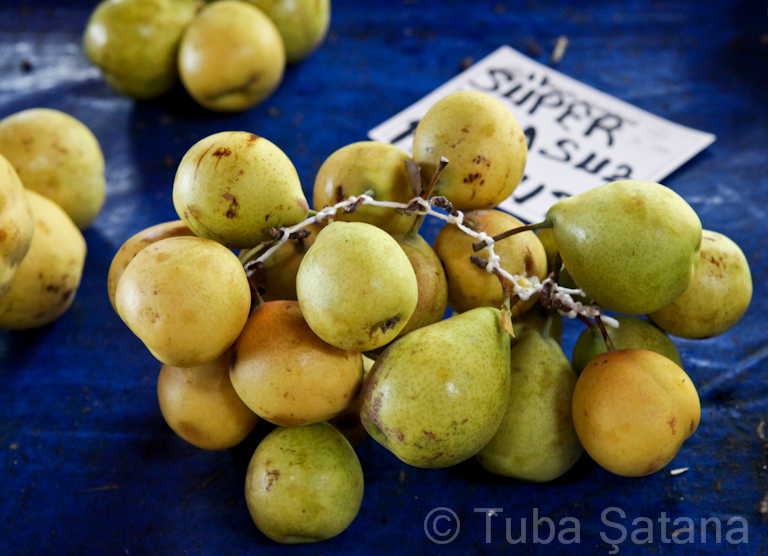 The coal smelling little village Ürgüp…
The narrow small streets, old people, like  a dead city actually, you see nobody, almost, till we get to pazar, the open air market. It was the late autumn and early winter, the stalls are full of homemade cheese, sun dried fruits, freshly picked fruits, vegetables like humongous cabbages and lovely people…
Socializing over an apple, stopping over at another stall to taste cheese, and the dried apricots. Oh my god, they were out of this world, got the taste under their skin, dried without seeding, so you can munch on the seed after you gulp down the flesh.
On another stall aluç (haw) and iğde (oleaster) laying with their charm on and for the ones who have no idea an equal challenge, what to do with them, what is it good for? I don't have any idea what it is good for, nor interested, I love them cause they taste good and they took me to my childhood when we used to wear necklaces made of haw and eat them at the same time. Kinky, eh!
I stopped over to smell some more fruits, buy more and more of that delicious apples, pears and tangerine where I met two old friends, shopping for their weekly groceries. We chat some, tasted some, laughed some and left them in their home town, a peaceful, humane little town. Being old is not being grumpy in this town, I felt life is treating them kind.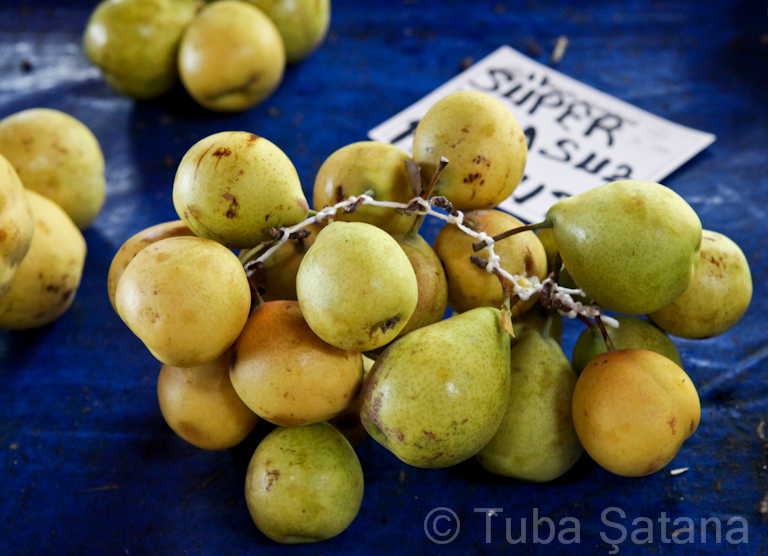 Moving out of pazar, my almost last stop was the villagers' cheese and butter products, smelling wood the yogurt and butter, oh the butter! That golden yellow color tells me so much, the smell made me spin and dance…
The drained yogurt, süzme yoğurt was tart, thick, milky, cheese, better than sour cream, mayo and everything in between. Spread it on a slice of bread, voila! You have the perfect meal! The cheese I tasted is like Erzincan tulum cheese, but saltier and firmer in texture, pungent and citrusy finish, lovely!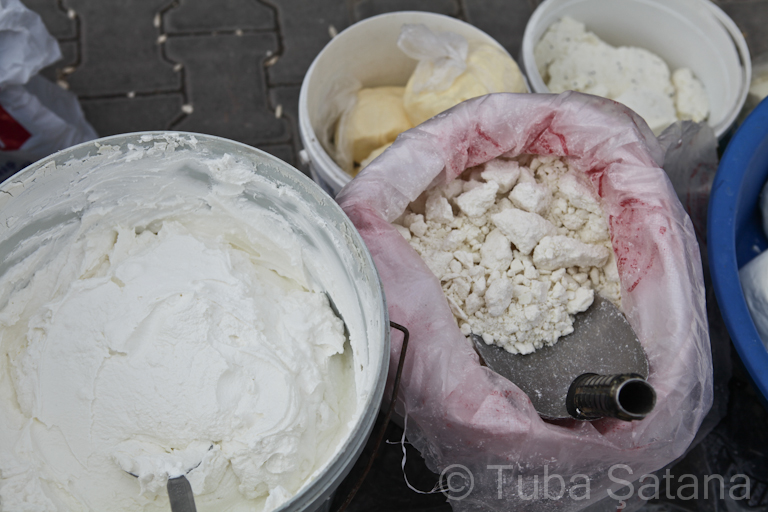 Thinking of how many kilos, bundles I am going to buy from that garlic, from that truck, that I passed through while entering to pazar, I ran into a bad surprise, the truck was vanished into thin air! With the girl's dream, at least this girl's…
But I have hand full of fruit, dried apricots, fruit leather, and a bag or three full of pumpkin seeds… Mon amour garlic was gone, breaking my heart into pieces, no consolidation for that, who I am kidding!