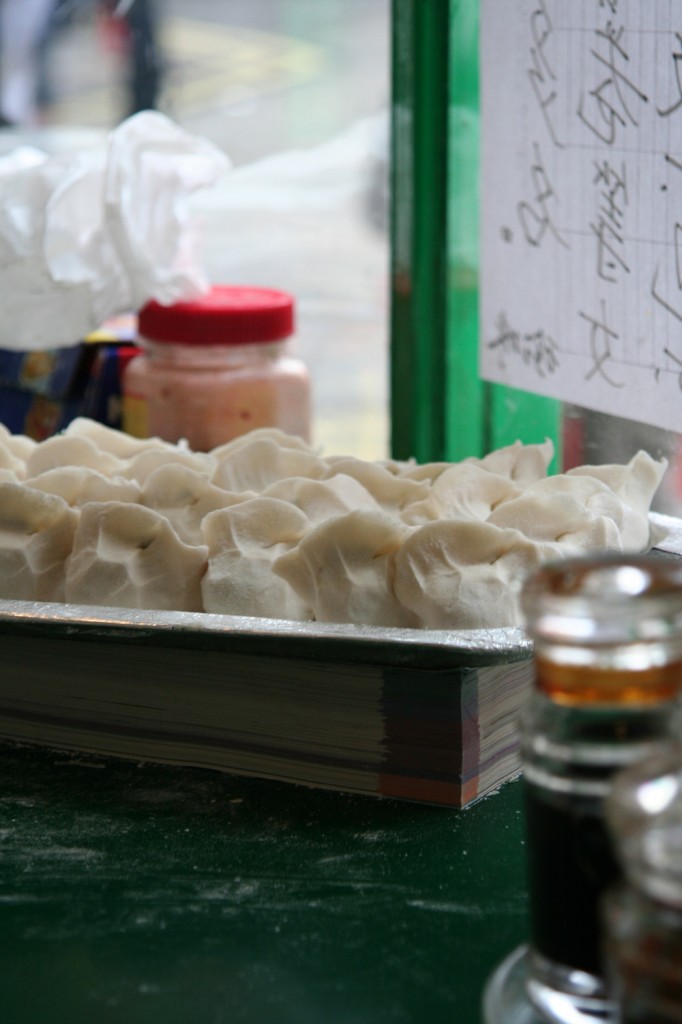 Little green corner shop. A-in-the-middle-of-Chinatown- hidden-gem.  One of the many reasons to return London over and over again.
Years ago, we ended there on a wet  London day. We were cold and wanted something to sooth us up, physically and mentally. Then we saw this little window display, where a woman making hand dumplings, filling and folding it quickly and on to another one.
We entered through the green door.  I stood by the Chinese woman while she was doing her thing and I am doing mine,  smelling the filling and taking pictures at the same time. She did not mind at all. Lovely. The dumplings were being filled with pork meat, ginger, scallions, garlic! What else do we need? We ordered one portion each, and a soup to wash them down. The soup was made with vegetable broth, a big bunch of bok choy and egg noodles.
The dumplings are the reason. The sense and sensibility. The perfect kiss.
Pork and preserved cabbage, the smoothies, vegetable pan fried dumplings are worth a try, but we always stick with steamed pork dumplings. And London and rain…
Address: 4-8 Newport Place, Chinatown, London WC2H 7JP
Phone: (020) 7287 9708
Service Hours: Mon-Wed10.30am-8.30pm, Thur-Sun10.30am-9.30pm