Go to Rome on artichoke season, you will  not regret it.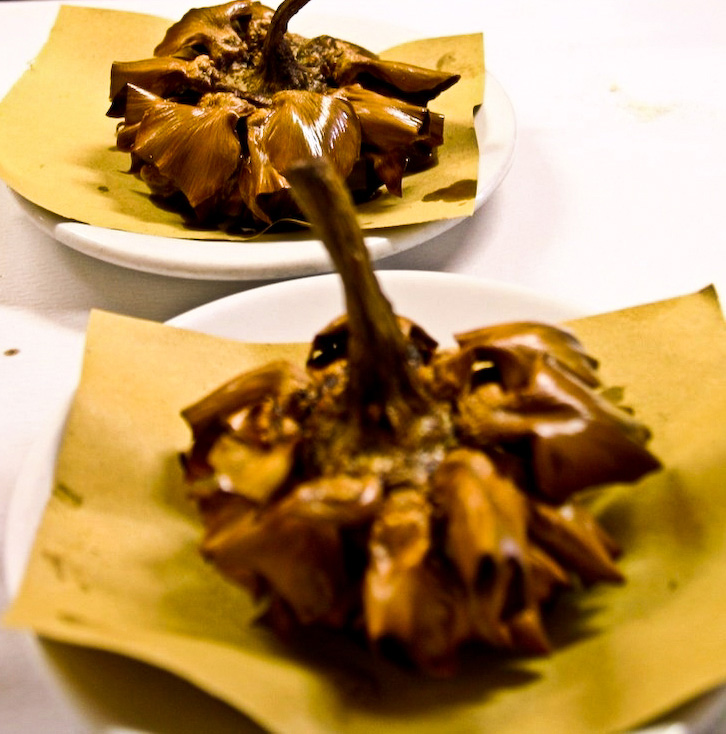 A very small window, one small door. Some wooden chairs scattered outside, for the miserable ones waiting.  A narrow street, a street church. Two women, standing bold and ready to rock. They make Jewish Italian food. Home cooking to die for. Small tables, cosy atmosphere, vino, pellegrino, italiano…
Linguini cacio e pepe, home made pasta fresca, with parmigiano reggiano and pepper. Simple but the must subtle texture and aroma human can think of! Or perhaps a simple ragu!
Carciofi alla Romana, the fried artichokes with leaves on, seasoned with salt. You never had anything like this! Crunchy on the outer leaves, and getting soft to the heart.  Like a love story. A true love story.  Artichoke tastes slightly burnt on the edges, that nutty taste blow your mind. You just savour every bit. Just one leaf of artichoke at a time and a sip of  vino.
Grilled liver, fegato, with baby rocket leaves, a glug of olive oil, and a slice of lemon. Squeeze the lemon on it, dunk your bread in… Another sip of vino. Or may be you fancy some meatballs in tomato sauce? All or nothing.
To finish with ricotta pie, topped with pine nuts. Oh my!
Mobile phones, dogs, espresso and cigarettes, beautiful people, yes we are in Rome! Ciao!
Address: 30 Piazza delle Cinque Scole, Ghetto, Rome
Phone: (06) 687 4216
Service Hours: Tues-Wed-Thu-Sun open 12.30pm-3.00pm, Fri-Sat 12.30pm-3.00pm and 8.00pm-10.30pm, closed on summers.