A long ceremony. A big pot of jasmine tea. Smiling Chinese people surround you. No music. Not needed. A slight clanging sound in the air. Dim sum carts rolling up to your table. The Cantonese delicacy. The moment we were waiting for.
Just say tea and begin to choose from those many many different dim sum.
Honey glazed BBQ pork bun, steamed to perfection, moist and so good. Chicken and lotus root cake, served pan shallow fried, served with its sweet-sour sauce to dip it. One of their signature dishes Kurobuta pork filled Shanghai dumplings are made with ginger, a touch of garlic, scallion and with its own broth. So when you see the little dumplings, you will understand why they are special. You have to lift it up very gently with your chop sticks, avoiding to tear the silky dough, otherwise the broth inside will escape,  and then put it on your spoon, if you like drip some soy sauce on top, then in your mouth. It is like a taste bomb exploding with all the fragrances. A sip of jasmine tea.
They have this shrimp mousse deep fried, also if you fancy they have rolls like sea bass, tofu. My other favorite was the green beans glazed with a soy reduction and covered with sesames. And the Pork Sui Mye, what a combination, made with both shrimp and pork with ginger. To finish, the Peking roast duck, with the golden-red skin, moist and succulent! Another sip of jasmine.
Steamed, shallow fried, deep fried, on bamboo steamers, on stainless steel cups, or plates… Just you want to sit there with your loved ones, eat and share your generous table, your true moment with real food.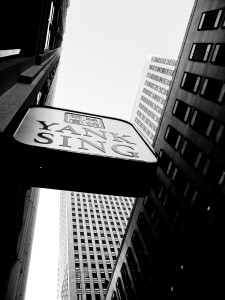 Address: 49 Stevenson Street, San Francisco CA 94105
Phone: (415) 541 4949
Service hours: Mon-Fri 11:00am-03:00pm, Sat-Sun 10:00am- 4:00pm