Before you go in the wonderland, you have to decide what you want to purchase, otherwise you feel like Alice falling down the hall. A sweet dream. A paradise of sweets. 203 years old establishment and run by fifth and sixth generation. In the heart of Kadıköy Food Market, its window displays are always inviting, all colorful and all intact.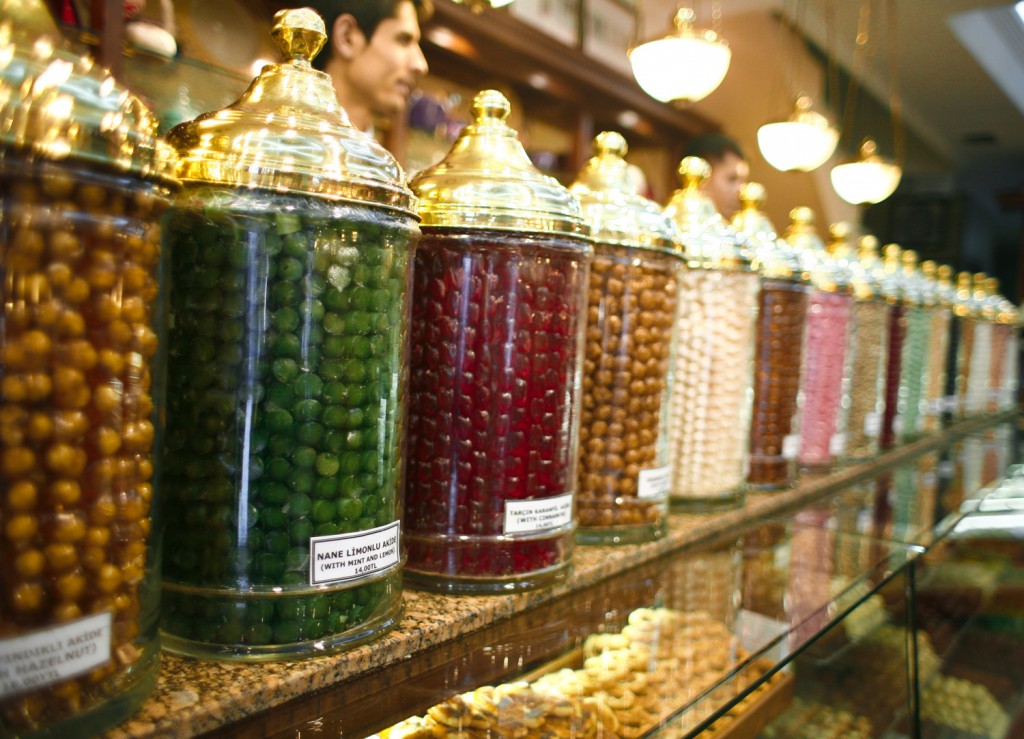 My favorite is akide şekeri in this confectioner, like to say bonbon, or candy. Huge jars full of colorful candies, shiny, luscious, mouth watering! Colorful and delicious as life. The assortment is wide, cinnamon, bergamot, lemon and mint, mint, rose, lemon, orange, nuts, strawberry, coconut and more.
Turkish delights with a variety of rose, double roasted pistachios, mastic gum, nuts, coffee, double roasted plain, cinnamon, chocolate coated, you name it.
Hand made marzipan, almond paste, all in the form of vegetables and fruit, you just do not want to eat them just watch them!
And the fruit flavored jelly, coated with tiny grains of sugar! They take me to my childhood, where I used to fill my little hands with them, making my hand sticky and, my granny shouting after not to fill myself with sweets before dinner!
Of course this is not all, they also made delicious Turkish sweets like tulumba, zerde, aşure, şekerpare and different kinds of helva.
Excuses to stop at Cafer Erol: You have visited Turkey and returning home already, just buying some for everyone at home, you love Cafe Erol, you love sweets, you are visiting your granny, you want to put a jar of colorful bonbons on your office desk and make everyone jealous, and make them love you more, you want to surprise your parents with their favorite, you were passing by, you loved the display, you want to ask your beloved one's parents for their blessings, you have a newborn baby or  you are buying all for you!
A timeless treat, a little time stolen from our lives, and a memory to take us to those days we had with the loved ones.

Address: Yasa Cad. No:19, Kadıköy, Istanbul
Phone: (216) 337 1103
Istanbulfood maps