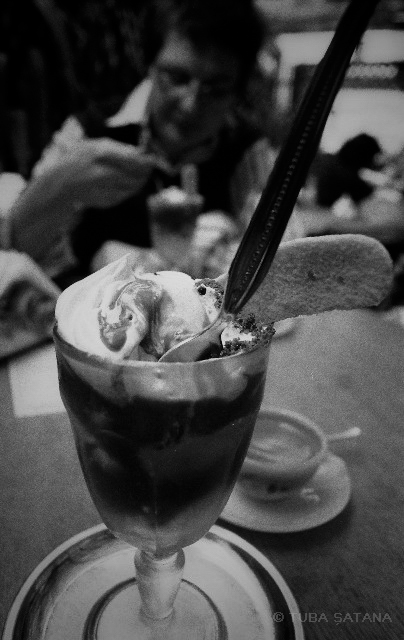 One of Istanbul's touchstones, my one and only Baylan stands bold, against all the new trends of baking,reminding us that old school is always sound. Ask any Istanbul local, they always have a story to  tell you about Baylan, and their memories from the good old days of Istanbul.
You feel like the place has been left untouched from old times, so magical, so nostalgic. I prefer to sit inside, where most of the people enjoy the mini cosy garden at the back of the patisserie.
They have many tastes that will please you but the signature dessert, but Kup Griye is the one!  Made with vanilla ice cream,  almonds, nuts, caramel sauce, chantilly cream and on top a lady finger, you order an espresso, then prepare to be amazed, cause the taste will take you to a sweet dream, while the hot, devil espresso tries to remind you where you are. The espresso is one of the best you can enjoy in Istanbul.
Macaroons, ice cream desserts, cherry liqueur filled home made chocolates, and my other favorite Paskalya Çöreği, the Easter bread, made with mahaleb, mastic gum, chemically balancing each other. That is the expertise.They also bake sweet and savory cookies, cakes, petits fours and the other treats.
Make time for this true Istanbul gem.
Address: Muvakkithane Caddesi, No:19, Kadıköy, Istanbul
Phone: (216) 346 6350
Service Hours: 8:30am – 8:00pm, everyday