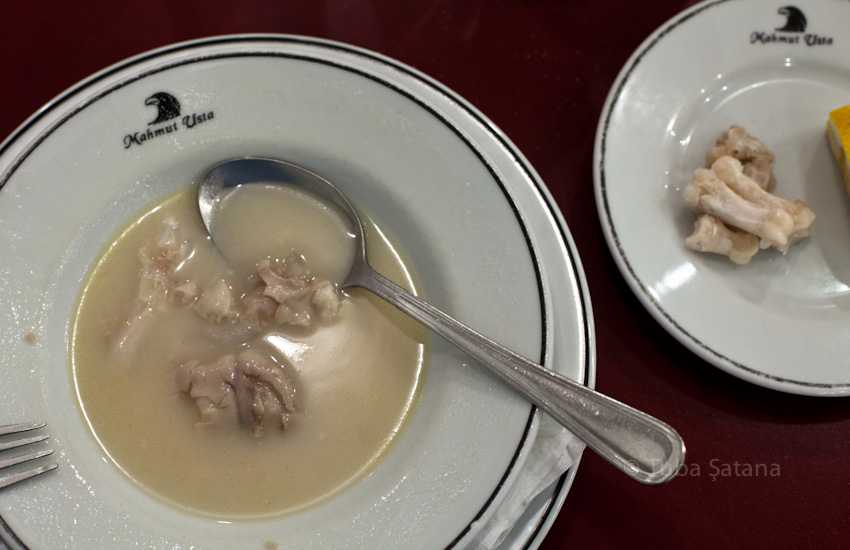 Don't know what you think of the phrase 'köy kahvaltısı' village breakfast, I think it is just a perfect marketing tool or a scam, if I may, and I do not buy that. At villages, in Anatolia, locals simply eat what they produce, depending on the season. Also it is very common to have soup in the morning, hearty and irreplaceable, especially if you are living in a rough climate or working at the field all day.
In Istanbul, I have some spots I have a morning paça çorbası – trotter soup- once in every often. One of them is Şahin Lokantası on Thursdays and another one is Paçacı Mahmut, at Kıztaşı, Fatih. Ahmet bey took over after Mahmut Usta passed away, and fulfilling his part since.
The famous trotter soup cooks overnight, the lambs' trotter left to simmer for hours, to leave its taste and gelatin in the broth, almost up to 8 hours. Then in the morning they make its liaison and the soup is ready to serve is after 5.00 am in the morning. The liaison should be free of lump and the taste should not overcome the trotter broth, may sound easy, but it needs years of experience to get the right consistency and the applause.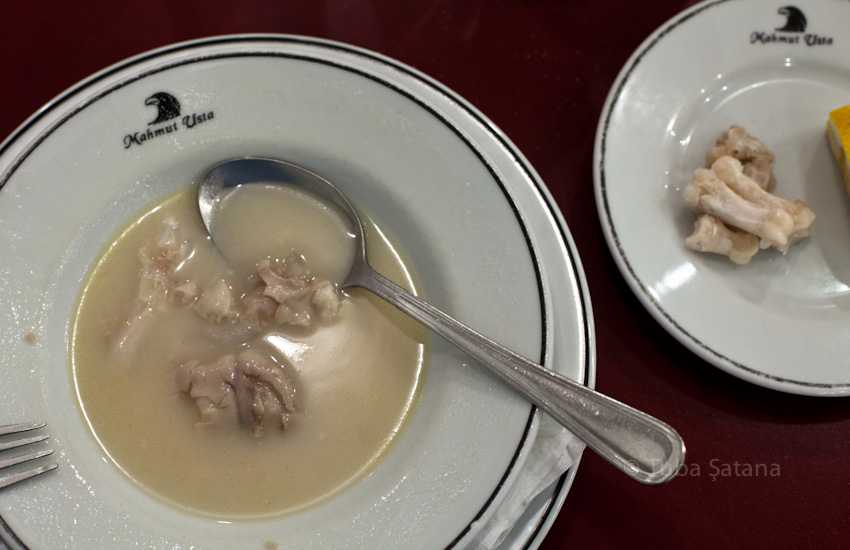 When it is served, it is a custom to finish seasoning it with garlic, chili flakes and vinegar. One spoonful of that creamy, meaty soup then you suck the trotters, making funny noises, but can not resist! The next plate is the warm irmik helvası –semolina halvah-!
Paçacı Mahmut Paşa is not only a soup stop, but serves as a tradesmen restaurant as well since 1969. The hot food display and the salad fridge shines like morning sun in your eyes, want to taste them all.
A lovely wake up call, a nice chat with Ahmet bey, the smell of garlic!