As Istanbul Food, it is our responsibility, our commitment to participate in this just war to stop the extinction of the Bosphorus fish Lüfer, our lüfer, the fish of the kings, the king of the fish!
Lüfer is not just a fish to us, it is a moral value, a story being told for many generations from mothers and fathers to children, as is Istanbul. Lüfer is beautiful, wayward, combative yet elegant.
It is the fish we wish to see on our plates after fully grown and after laying eggs.  No çinekop, no sarıkanat, no defne yaprağı will do! I want my lüfer as it should be, not before it has reached 24cm.
So do not let the restaurants serve you or fool you with anything else, you want your lüfer!
We do not want to tell a story  "Once upon a time there once lived a fish called Lüfer at Bosphorus…"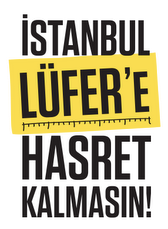 What's Cooking Series – Food And Culture