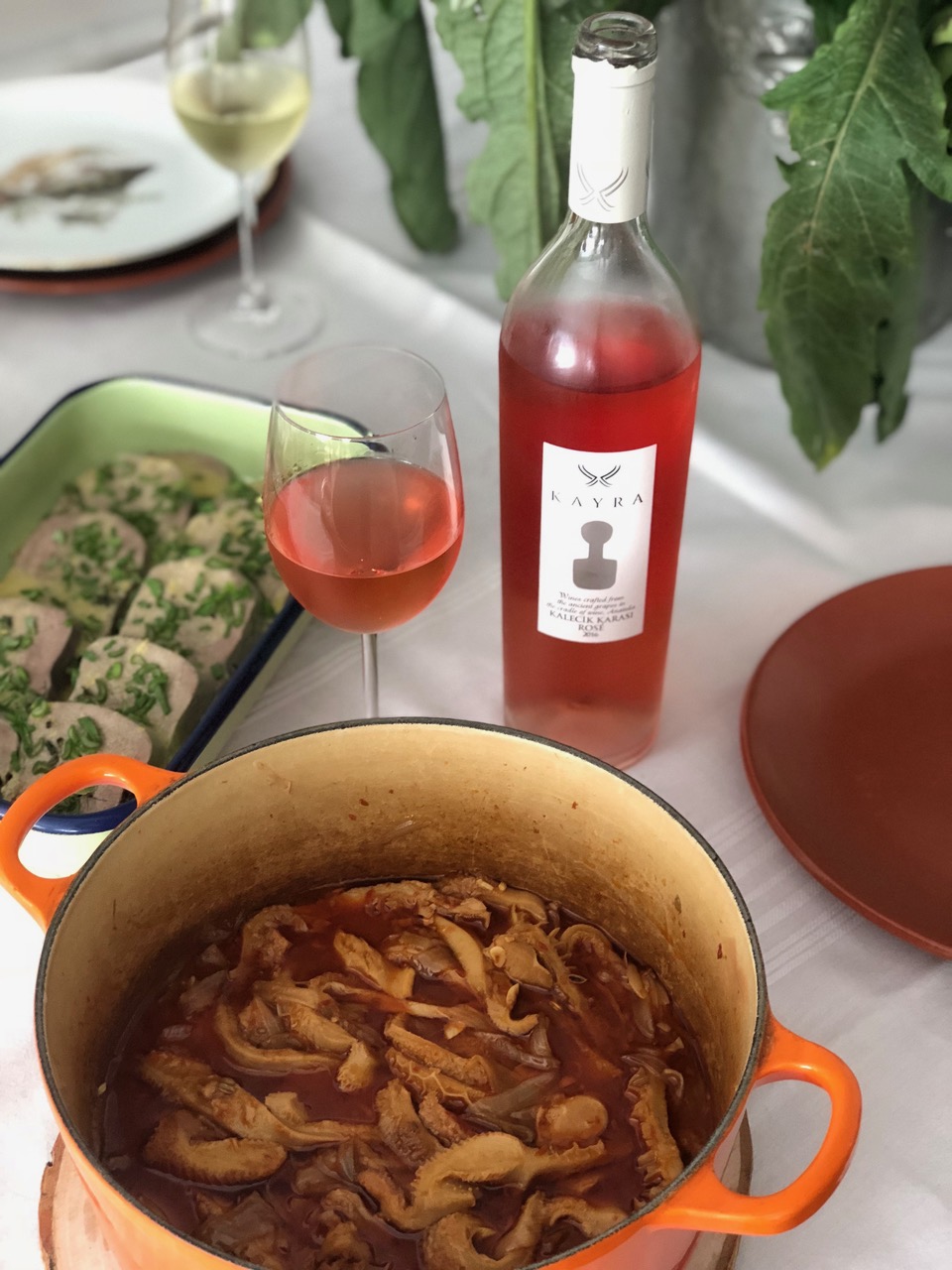 Offal, that mighty meat!
History reveals itself, it is said the offal was served to Gods… It was believed that it gave power to men giving them a strong will to fight and make their nations stronger…Once it was called the food of the poor… That same offal was also served to sultans at the palaces… In Istanbul, offal has its own history and cuisine and I have always felt lucky to be a part of the offal cuisine, of Istanbul and having a home where offal is cherished and honored…
So, what is offal exactly; also called the fifth quarter, the innards, the organ meat; it is the internal organs of the animal, like the brain, liver, spleen, tripe, trotter, head, intestine, heart, testicles, kidney, lungs…
Offal has been a part of food culture as far as the first hunting goes, wherever there was meat, there was offal, first as a container than as a delicacy. In the palace during the Ottoman era, the imperial kitchen books inform us about the consumption of offal like trotter, liver, intestines, tripe, sheep's head, and such different ingredients were used as well as the techniques.
But also we know that offal was known as the poor people's food, the trotter, head, liver, and such are sold at affordable prices to the public, after all the prime cuts were delivered to the imperial kitchen, the elite homes of Istanbul. There were street sellers called ciğerci, -the liver seller- a man wandering around the neighborhoods with a stick on his shoulder and liver hanging from both sides. Stopping as a customer calls out his name.
These sellers were usually Albanians and when you dig deep into Istanbul's offal shops sellers' history, the oldest shop owners were migrated from Albany, and in time their sons and grandsons took over. They are now the third-generation owners of the offal shops, learned the profession from generations of experience.
Offal and the city…
The consumption of offal has its ups and downs in Istanbul cuisine. Like every other thing, offal has been affected by the trends as well.  Once a street food, then a shining star in the chicest brasseries of the city, offal finds its way to its dedicated lovers anywhere, any time.
Kelle… One may not want to cook a sheep head in the oven, because of many reasons. Surely, it is best cooked in tandoori ovens or a wood-burning oven such as a neighborhood bakery then sold in front of your favorite offal butcher, in a heated little glass display. The steam-covered glass is a mystery to the ones unaware of the fact that a head lies there.
Such delicacy, everyone changes their moral thoughts after tasting its meat… You buy one on your way home, sprinkle some salt flakes, and cumin, open a bottle of Öküzgözü and enjoy the soft and unique meat…
Kokoreç has been one of the most valued and preferred street foods in Istanbul, it is loved and eaten all through the day, and especially if you are returning home from a heavy night of drinking, having a sandwich mopped all the fat of kokoreç and sprinkled spices like cumin, chili flakes, and thyme, is a must… It is really addictive.
We can say the same things for işkembe çorbası -tripe soup- as well, as soon as the piping hot soup is served, you add a generous amount of vinegar and crushed garlic, the more the merrier and some chili flakes. The moment you sip that soup, you revive!
Ciğer… The liver is still the most consumed offal in Istanbul. It is widely cooked at ocakbaşı -a kebab restaurant where you can sit and enjoy your meal by the huge grill and watch usta prepare your orders. The most known and loved dishes of the liver, ciğer kebab -little cubes of liver and tail fat, on a thin skewer cooked on charcoal fire, Arnavut ciğeri, -Albanian liver, surely as the offal butchers were from Albany- cubes of liver dusted with flour and fried in oil, sprinkled with chili flakes, eaten with onions, yaprak ciğer, thin layers of liver pan-fried with butter or vegetable oil.
If you are living in an old part of the city, you may run into the street grilled liver sellers, like Albanian liver, holding a special small glass and steel display in his hand, its tiers filled with liver, onions and on his other, there is a basket full of sandwich bread, he walks all day and makes liver sandwiches… A true street food culture, though a few left in the city.
When eating out at a meyhane –a local tavern for mezes and rakı-, or a kebab restaurant your drink preference is usually rakı, –rakı is made from distilled grapes and anise seed- but actually, offal dishes are made to be paired with wine.
May be considered of haute cuisine, poor people's food, street food or imperial food; cooking with offal is always very genuine and true to self. Whatever it is called, it needs expertise and experience to cook with offal.
Offal shops…
So I went down to Beyoğlu Balık Pazarı for this special shopping. Stopped at my pickle shop for some aubergine and garlic pickles, the sweet shop for that quince dessert and clotted cream and two different offal butchers who happen to be two of the best and the trusted offal butchers of Istanbul, where I had been a return customer and long since I started creating my own offal memories.
The whereabouts of the offal shops in Istanbul depend on the consumption of the products. The multicultural city of Istanbul was home to many ethnicities Greeks, Armenians, Levantines, and Jews. Not only offal but all the best food shopping gathered around their neighborhoods in near history of Istanbul. Like Beyoğlu Balık Pazarı and Kadıköy FishMarket…
The area which we call the Beyoğlu Fish Market today used to be the home of many offal shops, one selling liver, one trotter one other. The shopkeepers had the most respect for each other and everyone had their unique customers. Still, two of the oldest offal shops in Istanbul are situated at Beyoğlu Balık Pazarı.
The minorities and the Turkish families living in the buildings, being neighbors, sharing food and their recipes had a different kind of improvement, a communion to Istanbul's food culture.
For example, dalak dolması, the stuffed spleen, has been in the books of Armenians and Greeks, the same techniques yet the ingredients vary, this dish is considered to be a celebratory dish, cooked and eaten during festivals or special days. It is a pity that they do not mention what was served as a drink with this one-of-a-kind dish.
Unfortunately, through the years the area turned out to be a spot for restaurants and home of the famous nightlife of Istanbul, so the families started to move to different neighborhoods or left the city completely for other reasons followed.
So now we have only left a few good offal shops in the city, all have their customers from all ethnicities, of all ages and incomes. If there is an offal shop in the neighborhood and if it is always filled with customers, it is easy to understand that the home cooks are worthy of cooking offal, they are cooking what they learned from their grannies or grandfathers…
Our offal menu was paired with eloquent wines, worthy of each other… 
For me, offal is at its best when cooked at home. So we gathered around the table to celebrate spring with offal dishes and Kayra wines from different regions of Turkey.
A bouquet of artichokes posed as flowers as laid in the middle of the table, their big leaves falling softly on the white table cloth, and the sun glittering through the curtains, leaving its smooth reflection on the table…
That menu… 
İşkembe kızartma – deep fried tripe with aioli  & Kayra Narince
İşkembe yahni – tripe stew & Kayra Kalecik Karası Rosé
Dil söğüş, mercanköşklü vinegret – cold beef tongue, vinaigrette with marjoram, mustard & Kayra Versus Chardonnay- Viognier
Uykuluk tava, pırasa ve fındık – pan butter fried sweetbreads with leek and hazelnuts & Kayra Beyaz Kalecik Karası (blanc de noir)
Sarma kokoreç, otlu arpa şehriye – lamb intestines, herbed orzo & Kayra Versus Alpagut Öküzgözü
Ayva tatlısı, kaymak – quince dessert, clotted cream & Madre
A lot of mise en place went on the prior day. Soaking in cold water for the excess blood, boiling the tripe, and the tongue, which is all necessary to get the best results while cooking with offal…
We started with a piece of the fried tripe dipped in herb aioli and a sip of cold Narince… So natural together feels like a twist of lemon in your mouth, grapefruit notes go so well with the crunchy texture and fried taste. It was a bottle of Kayra Narince 2016. Also, the herbs that I cooked the tripe in and the frying process followed needed a strong acidity so they made a good combination with the notes of Narince.
Narince, a white grape from Tokat area, narin meaning delicate, the skin is so fragile, so thin, it might as well be called the princess of the white grapes in Turkey! Narince grape is processed at Şarköy, at the wine factory of Kayra.
Narince is very fruity, perfumed, and has a full body, it is also mineral and acidic due to the stony soils of Tokat region. Sophisticated and complex, that lady. Yes, my favorite white grape.
İşkembe yahni, tripe stew, cooked with garlic, onions, fennel seeds and a spoonful of smoky pepper paste from Şanlıurfa, isot salçası, paired with Kalecik Karası Rosé.
A glass of rosé wine can handle the mild and spicy flavors, not masking, but complementing. Kalecik Karası Rosé, handled the pepper paste's aroma and acid perfectly, not to mention the surprisingly good harmony with fennel seeds.
This Kalecik Karası Rosé is from Denizli vineyards. The Kalecik Karası from Denizli region is slightly fruitier and has more red fruit notes and is softer than the ones from Ankara. That Denizli Kalecik Karası is born to be a rosé wine we agreed. So we had another sip!
Kalecik Karası is an amazing indigenous grape and if handled correctly, it creates wonders. As Kayra produces 3 different wines from Kalecik Karası, you may witness this transformation yourself,  blanc de noir, rosé, and red wine, a great example of what can be achieved with this grape.
They pick the grapes every other week, of course depending on weather conditions each year, with different maturity levels and process accordingly.
Beyaz Kalecik Karası, blanc de noir, has notes like pulpy fruits, white peach, and apricot, made a perfect couple with uykuluk, the pan butter fried sweetbreads. These caramelized sweetbreads are so generous but so delicate in aroma, needed a level of fruitiness, acidity level is made for each other, all the caramelized leek, hazelnuts, and sweetbreads with this early harvested Beyaz Kalecik Karası… 
If there is only one offal dish you are meant to cook at your home, pair it with this Kayra Beyaz Kalecik Karası, you will see what I am talking about. If not, buy a ticket and come to Istanbul.
Mesmerizing, both sweetbreads and the wine, we wished this bottle or this lunch would not end…
Since we had a whole bottle to ourselves, we tried it with the deep-fried tripe, and yes, it was so good together!
The tongue and the mustard dressing needed something buttery and less acidic, so we opened a bottle of Kayra Versus Chardonnay Viognier 2014. Both grapes are grown at Şarköy, Hamzapınar vineyard, processed, and bottled there.
The tongue almost acts like strong white meat, and the dressing is mild, so this dish needed a medium body and medium acidity. The oak-barrelled Chardonnay Viognier made all the difference. Vanilla, apple, pear and a long finish, with a complex structure with the barrel finish.
Sarma kokoreç, reflects all my mother's memories for the reason that this dish was introduced to me by my mother years ago when she was telling me about her childhood days and her grandmother's cooking. They used to cook this sarma kokoreç during spring, thin and delicate kokoreç only made from the spring lamb's intestines.
Only a few ustas left who prepare this sarma, the intestines are braided in different special knots, that slimy intestines are not very handy I have to say, only experienced hands can put knots on them and make it look as pretty as this…
After cooking these in aromatic water and letting them sit and cool down there, infusing all the juices, I used this broth to cook orzo with some spring herbs, not to mention the fresh garlic. I grilled the sarma kokoreç in the hot cast iron and served it on top of the herbed orzo.
So we had some grilled intestines and herbed and fatty orzo paired with Kayra Versus Alpagut Öküzgözü 2015. Dark red fruits, bold, earthy and rich aromas. Tanic and medium body matched with this gentle lamb intestine so lovely. Also, only Öküzgözü can handle this amount of cumin we sprinkled on kokoreç.
Kayra Versus Alpagut Öküzgözü 2015 is from a single vineyard from Elazığ and processed at the Kayra wine factory at Elazığ.
Madre… Sweet sweet wine, that bottle of Madre… This wine is produced from Öküzgözü and Boğazkere grapes and has been matured under the sun in French oak barrels for 5 years, using a similar production technique as the Madeira wines.
Full-bodied, buttery with a long finish, goes perfectly together with anything with a hint of caramel, I always look forward to any dessert to have a glass of Madre. The quince dessert and clotted cream with Madre, then followed by strong coffee, and more Madre. Coffee brought out the roast tastes in this sweet wine, leaving you murmuring your favorite songs, maybe an Elle Fitzgerald melody, sweet and husky…
As Fergus Henderson said; "Nose-to-tail eating is not a bloodlust, testosterone-fueled offal hunt. It's common sense, and it's all good stuff."
*A note from Tuba: This article was written for Kayra Wines and published on  Kayra Wines website on 2018. The website, unfortunately, is not accessible from Turkey.