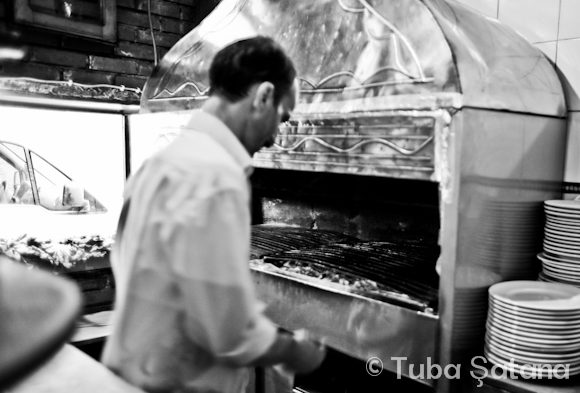 If you feel like you are lost, and this place is so wrong for a fish restaurant, it means you are in the right place. Tarihi Karaköy Balık Lokantası is located in Karaköy, in a rumble place. This place was used to be a fish tradesman restaurant, in the good old days. At this small lokanta you eat fish, the best grilled fish from a big eighty years old charcoal grill.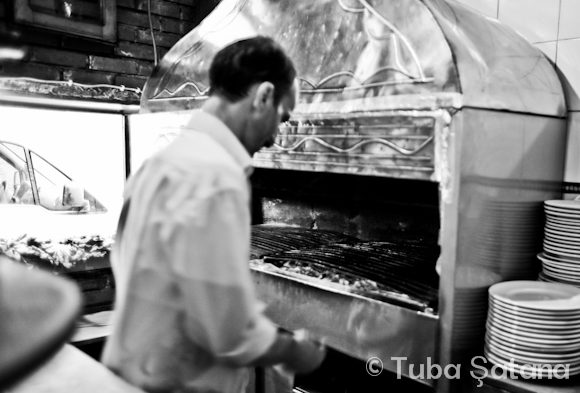 You enter from the mini door, with a display on your left side with the prepared fish, all beautifully lay in front of your eyes making you more hungry, shellfish on skewers, big full parchment papers, colorfully surrounded with tomatoes, peppers…
There are couple of fish served everyday, seasonally what is available. Muharrem Usta is the man, the grill master. He mostly got his fish from Büyükada. He choose the fish, cleans, prepares, cooks. I told you, he is the man! And he is the only man in İstanbul for me who can grill fish perfectly, flawlessly, dreamy. Muharrem Usta has been a master for 21 years now. Being a master, a real master is not easy, he started his way in the kitchen from washing dishes, cleaning, being a commis. He learned grilling from the real master, earning his way up to the grill.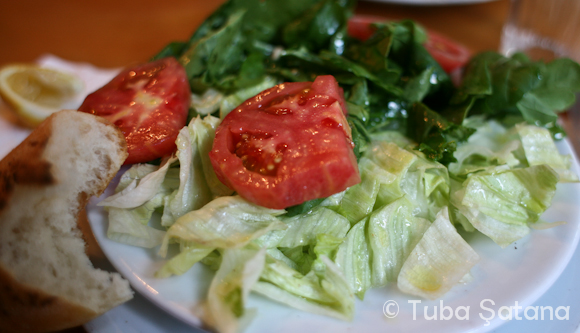 Muharrem Usta greets you, if he is not already busy on the grill, we say his and ask for the fish, already written on a small board right in front of us. We order salad, prawn on skewer, sole again on skewer and sea bass in parchment paper. We feel safe and happy, leaving  everything to its master, we sit at our table, nearest one to him if possible.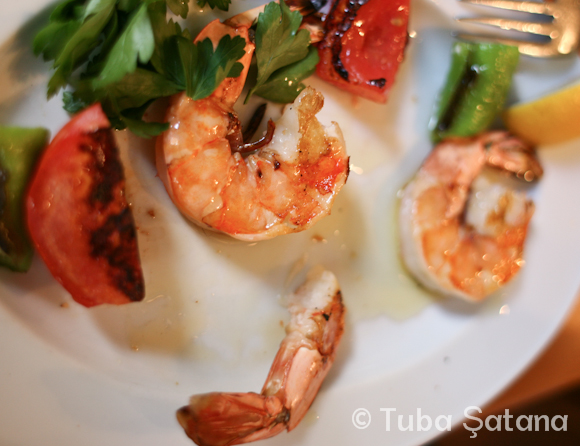 First he put the small custom made bread on the grill, then he sends it with the simple, fresh salad, topped with olive oil from Ayvalık. So the feast begins. We tuck in the humble green, arugula and tomatoes with that bread. Oh, that bread! Then comes the big prawns with their tails on, grilled to perfection, drizzled olive oil.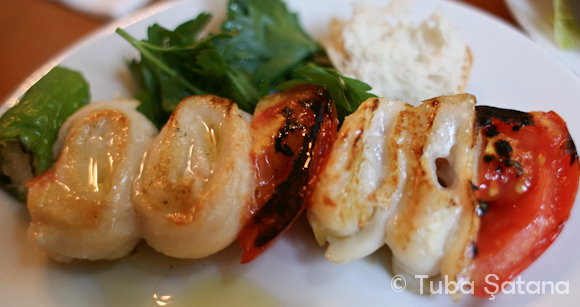 Then comes the sole. Beautifully curled fillet, the sole is tender, seared on the outside, grilled fast to keep it moist and one bite it is bursting with the real flavor of the fish,  the sole is out of heaven. You never ate anything like this! For me this is the signature dish.
Followed by the silky sea bass in parchment paper, cooked on the grill, the tomatoes did not melt but only left their flavors on the fish, olive oil is the finishing touch. Melt in your mouth, you never want it to end. We ask for more bread, mopped and scraped the juices, left with the  paper and literally had to stop ourselves from licking the paper.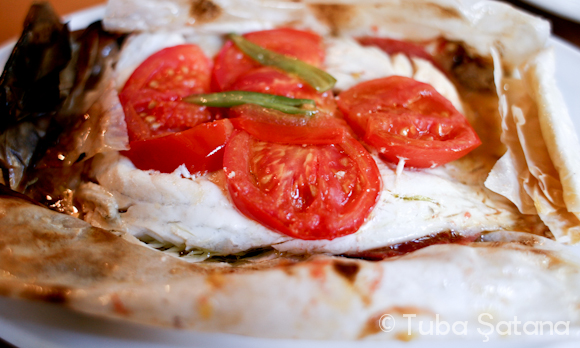 As fish needs its sweet, so did we, so he sliced us a thin piece of helva with pistachio, coming from Manisa. Just the right amount, the right taste, mellow with the oil of sesame.
Tarihi Karaköy Balık Lokantası is only open for lunch and close around 3.00pm, so act up, prepare to wait if busy and don't sit at my table!
Address: Tersane Cad. Kardeşim Sok. No:45/A, Karaköy
Phone: (212) 251 1371