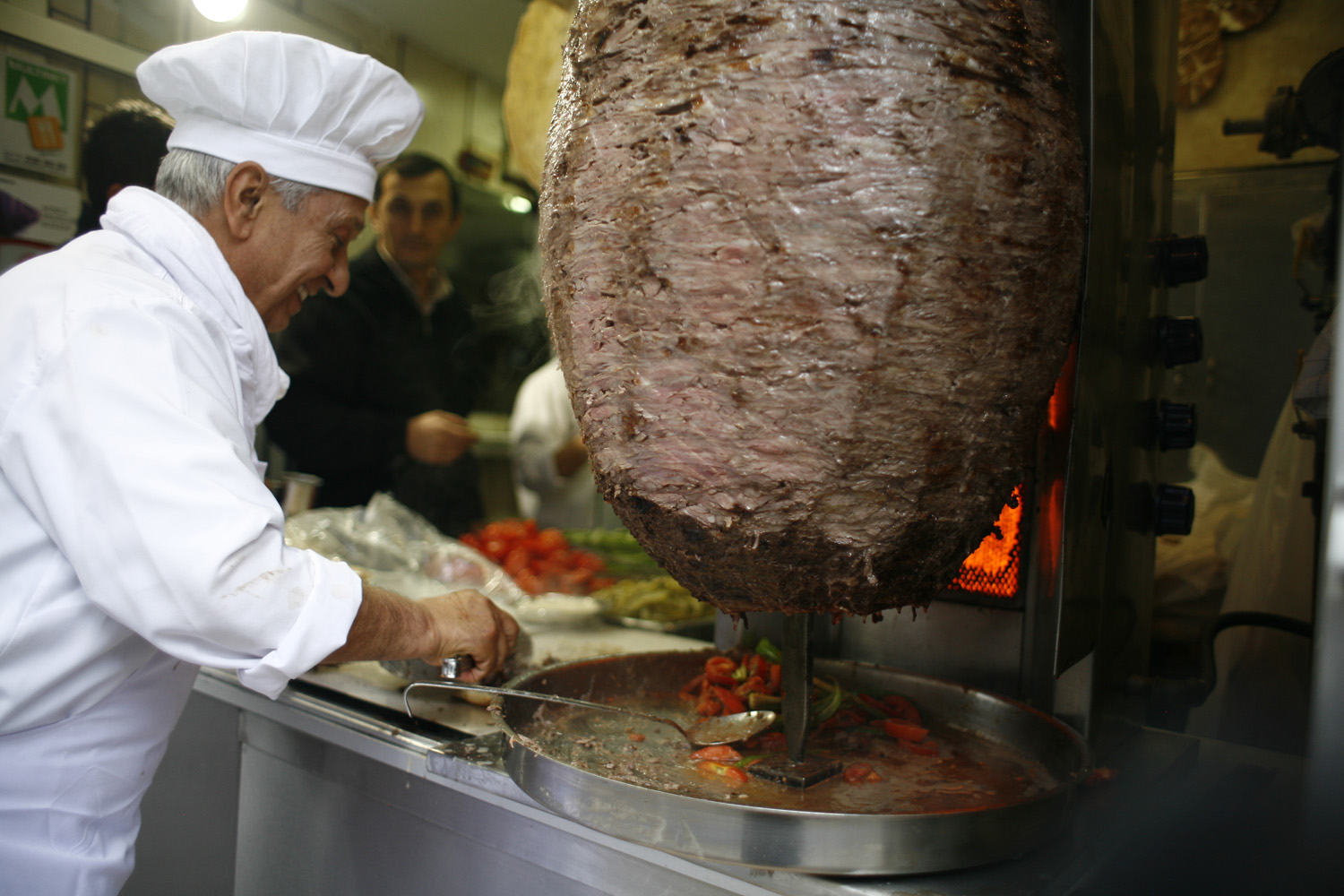 Döner kebab -for the beginners- is a meat dish consists of deboned meat layered on a vertical spit, roasted rotating on its axis, then cut -shaved- thin slices with a special long knife aka döner bıçağı… Served as pide sandwich, wrapped in lavaş, in half loaf of bread or plated on pilav, on pide… with a side of onions, pickles, tomatoes, pepper… the possibilities are endless, the result is always delicious!
These days, we are surrendered by back to back opening chain döner shops all around the city. The high end butchers and all big so and so's getting knees deep into making döner somewhat what is not, even serving it with ketchup, mayo and other condiments… What a disgrace!
My all time favorite döner stops consist of small places, great döner and lovely people, my great usta, who love what they do!
Karadeniz Pide ve Döner Salonu; my all time favorite!
Asım Usta needs no introduction to Istanbul döner lovers! He is the one and only Asım Usta with the beautiful smile and whom is in charge of the humongous döner. He takes care of every order personally, chatting with each customer, getting angry with me if I do not show up more than a month… For the last years he has been teaching Cengiz Usta about the tricks of a good döner, slicing, rotating and I think Cengiz Usta is very lucky to have him as a mentor! The layers of beef -and a little lamb- is tender, juicy, delicious, a little fatty. I prefer having half loaf of bread, medium cooked -az pişkin- as we say, with onions, one glass of ayran…
You may end up waiting, be patient, it worths every bite!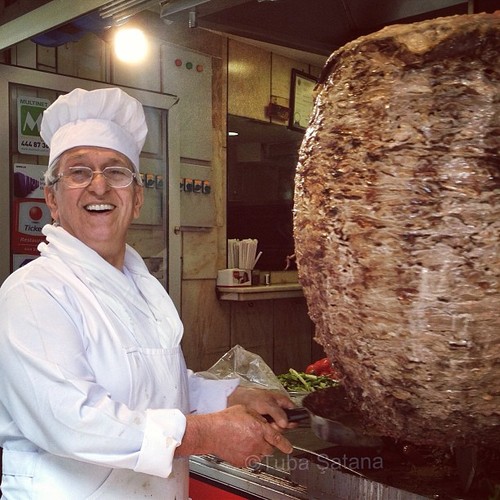 Dönerci Şahin Usta; a hole in the wall at Sultanahmet…
This hole in the wall, is one of the most delicious places to eat decent food in Sultanahmet area. Even though the döner is not layers of meat but from a mince meat mixture, it is prepared in tırnak pide garnished with sumac onions, folded into two, so humble as a tırnak pide and meat duo fan, this little place became our usual stop at the area in no time!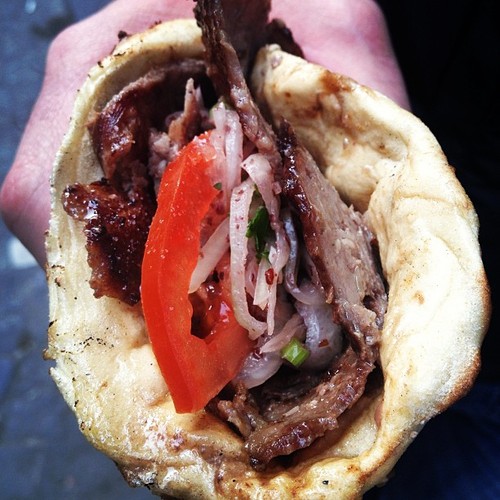 Zümrüt Büfe; döner with potato puree…
A delicious stop at one of the buzziest area around Eminönü, we go insane here ordering 150 grams of döner in thin lavaş, one with potato puree one with only chili flakes! Then we order the second round, end up eating almost a kilo of meat in a jiff…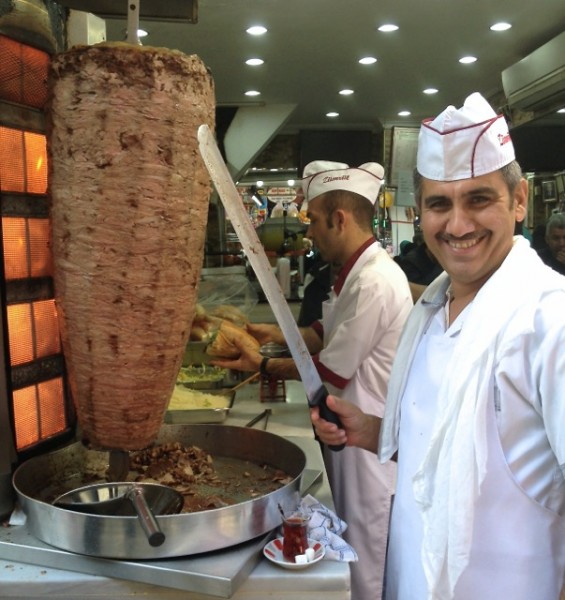 Çiya; definitely the best döner in Kadıköy!
If you can control yourself enough to skip the other delicious food displayed on the counter and decide on eating döner, order a portion of it. They serve döner with rice pilav, hand cut thick fried potatoes -us locals call them anneanne patatesi, granny style potatoes, peppers and tomatoes, döner layered on tırnak pide, the pide is getting soaked with the meat's juices and fat!
Flamingo Büfe; my neighbourhood gem!
Their döner tastes best in pide, and it is their best loved dish some pickles and tomatoes to garnish with. I can not stop myself having one while passing by or do a take away even, then at home I prepare some onions and parsley garnish for my pide döner.
Şehzade Erzurum Cağ Kebabı; lamb and more lamb on a horizontal spit…
Cağ kebabı and döner??.. You might think they are irrelevant, but cağ kebabı is considered to be the ancestor of döner kebab, thick cuts of meat cooked on horizontal spit on fire, a former shepherds' food, former picnic food for men and cağ means the little skewers on which the meat is served. As döner changes from city to city, cağ kebabı is a speciality food from Erzurum and surroundings…
I think Şehzade Erzurum Cağ kebabı serves the best cağ kebab in town and is owned by unique Özcan Usta and his brother Özkan. Cağ kebabı is enjoyed with lavaş, onions and yogurt! Be prepared to eat one of the best lamb meat served in Istanbul!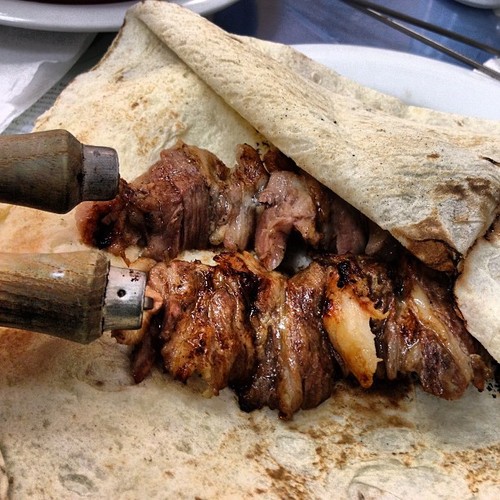 It is no secret that we love our meat! Go now and bon appetit!
Adressess:
Karadeniz Pide ve Döner Salonu, Asım Usta: Sinan Paşa Mah, Mumcu Bakkal Sk. No:6, Beşiktaş
Dönerci Şahin Usta: Nuru Osmaniye, Kılıççılar Sk. No:7, Sultanahmet
Zümrüt Büfe: Sabuncu Han Cad. No:26, Eminönü
Çiya: Güneşlibahçe Sok. No:43, Kadıköy
Flamingo Büfe: Bağdat Cad.No:229, Çiftehavuzlar Göztepe, Kadıköy
Şehzade Erzurum Cağ Kebabı: Hocapaşa Sk. No:3/A, Sirkeci