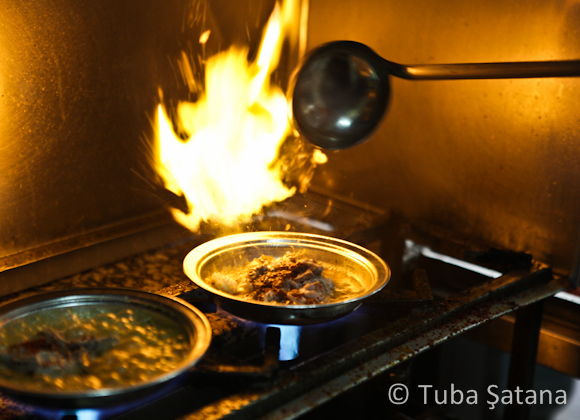 When I open my fridge for breakfast, I found myself in the typical stuff, shining at me, cheese of all kinds, olives, sucuk, you name it… But all I wanted to have was beyran like I was in Gaziantep. Beyran to sooth me down, to heal me, to make me feel whole again.
I stopped two mornings at Metanet Beyran Salonu, to devour the meaty, silky, fatty, delicious dish, getting amazed by the Mustafa Usta and his great staff.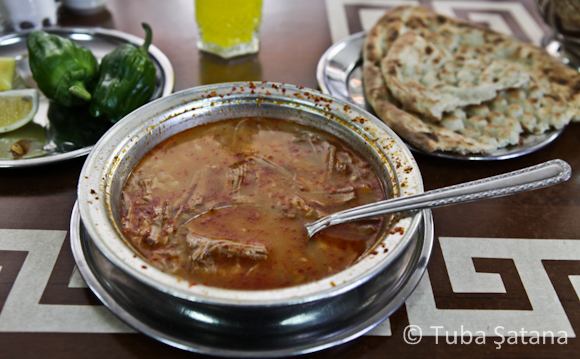 Taking the shortcut to reach Metanet, crossing the tiny passage to the mosque's garden, then out to the small street, I found myself in front of the old fashioned big local restaurant. The moment I sat in foot, welcomed by smiling faces, me saying good mornings and kolay gelsin.
I choose a table, where you share with whomever, I was asked immediately, I said an original beyran, meaning with garlic, loads of chilies, how Mustafa Usta prepares it. Served with the silky green Antep pepper, wedges of lemon and hot tırnaklı ekmek, you now it as pide, just out from the oven.Yes, hey have an oven to serve tırnaklı ekmek hot, crusty.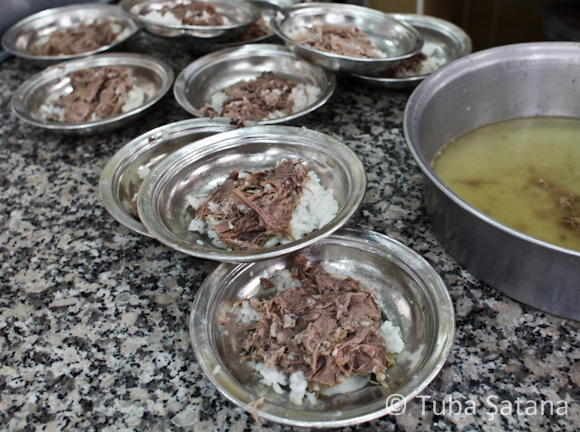 Beyran is a dish made from mutton broth, mutton meat, rice and suet. Sounds easy yet the preparation time is slightly above 12 hours. The mutton is simmered like a typical broth, first water to throw away, second  the scum cleared et all, the bones setting loose their fragrance in the water, for a good 12 hours. The meat turns out melt-in-your-mouth with any unwanted parts trimmed off.
The rice cooked to perfection, so does the suet. The fat surrounding the kidney, simmered for hours, turns into a margarine form, yum.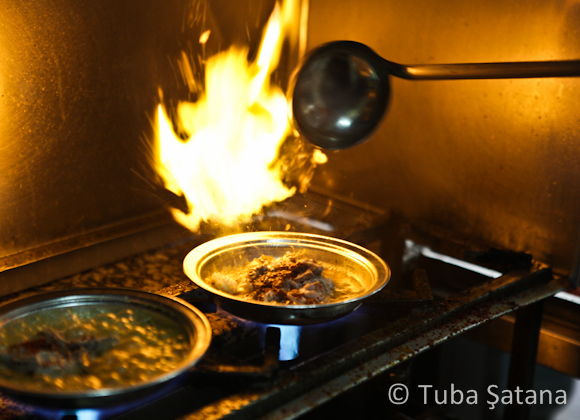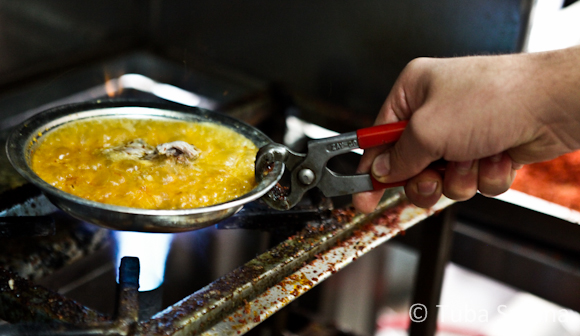 Each dish is prepared by Mustafa Usta himself, finished by his staff. First he spreads some suet on the bottom of the bowl, topped with  cooked rice and cooked mutton meat. Then it is topped with garlic, chili flakes, put on top of the furiously burning special stove, and poured some of that 12 hour simmered mutton broth. The moment it warms up, which is instantly, poured another ladle full broth, the oil in the broth causing a flambeé effect. It is taken out of the fire with pincers, served bubbling hot, literally. The result, you guess!
It is either beyran, ciğer or katmer (wait for the upcoming posts) for breakfast in Gaziantep. Yours  to pick. Oh, by the way, breakfast in Gaziantep starts at 5.00am till 9.00 am or 11.00am depending on the establishment.
I had them all, all with the locals, sharing their tables, sharing their jokes, they shared their lives with me and I am glad I was in Gaziantep, not for the first nor for the last time.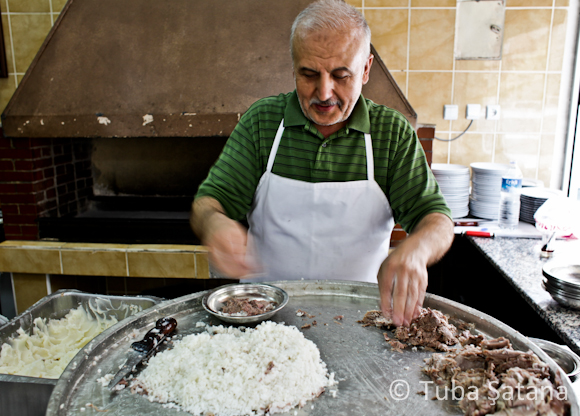 Mustafa Usta, ellerinin tadı hiç eksilmesin… *
*(something like, May the taste of your hands never go away, Mustafa Usta.)
Address: Kozluca Mah, Kozluca Cad No.11, Gaziantep
Phone: (0342)231 46 66