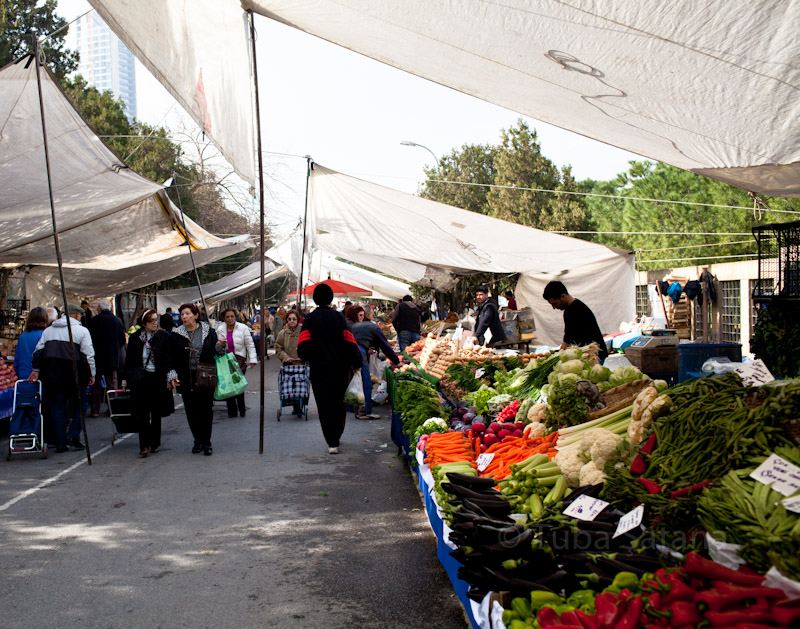 Pazar changes its color like seasons. Fruits, flowers, vegetables even the stalls selling homemade produce change… spring is one of the liveliest times and as the summer approaches, I was not surprised to see the heap of clothing switched to heap of sun bathing suits, shorts, t-shirts…
Some may be taken by the product range, the charm, the attraction of finding everything in a big supermarket, but still many people, especially housewives, food lovers of sorts prefer going to their weekly neighbourhood open air markets, pazar, within the walking distance or a stop or two away from their houses… It is place to gossip, to eat gözleme, to shop, to remedy a boring day of a retired oldschooler …
Most of them has roller carts, roll as they walk while checking the counters of fruit  vegetable, cheese from afar. First they walk the pazar from one end to another, studying the prices and freshness of everything they intend to buy. It has been a common practise known and assimilated by many, usually the elder ladies, who knows the value of money.  On their way back, the roller carts, pazar arabaları, fill up with veggies of fruits of sorts, the heaviest ones being on the bottom of the trolley where delicate things make the brim or exceed.
At Göztepe Pazarı, Kadıköy on Mondays, the stalls fully open around 9.30am and last around the last ray of sunshine. If you are an early bird like me, it may sound late but the locals of Göztepe, they love taking it easy, enjoying their breakfast before their shopping. And if you just can not wait for all the vendors to organise, decorate their stalls attentively and walk through the pazar returning from a morning walk, you may buy your groceries at the highest price available. Don't bother to ask the reason, the only answer you'll get is  "this is the morning price" with the most unconcerned, almost mocking tone. If you do not know that seller, that is. So go local, do the noon walk.
Just before the sunset, the most inevitable hour hits, the discount hour, then you can not even hear your words, crowd running over you, bumping to each other, trying to grab what's on others hand, buying from what's left from a busy morning.  A scene to remember! Not for me though.
I prefer pazar for its people, other then its produce, to be frank. I love the open food market's liveliness, the mess, the vendors – not the sharks-, the yells, the funny tiff, even duets singing how fresh their products are. In Göztepe Pazarı, most of the sellers are from South East of Turkey, you may be surprised to find out that the fruit sellers are mostly from Kars some from Mardin. There are couple of villager families bringing in the wildly grown greens from outskirts of Istanbul, all tied in bunches from cilantro to borage, when in season. The rest mostly from part of Anatolia, migrated long to Istanbul long years ago…
Not to forget the ultimate gözleme maker of our pazar, Ayşe abla and her family. It is a small escapade from a long walk and shopping, you order her a gözleme with spinach, take a seat,enjoy your tea while waiting. On their counters you may find tomato paste, different cuts of local pasta like silor or erişte, local tastes of Karadeniz, Black Sea Region as the family, fruit preserves, spicy breakfast spreads, dolma, un helvası, poğaça, this and that…
Like every pazar, Göztepe has its own dynamics, the pazar tea maker, the carrier boys clenching your bags, simit sellers, water boys, 5-lemon-for-1-lira guys, rug rats, joyful vendors and grumpy ones! All in one basket, all seller has a buyer!
Проведи ночь в спальне у прекрасной индивидуалки Уфы https://sexanketa-ufa.net/ чудесный секс: классика, анальный секс и эротический массаж.