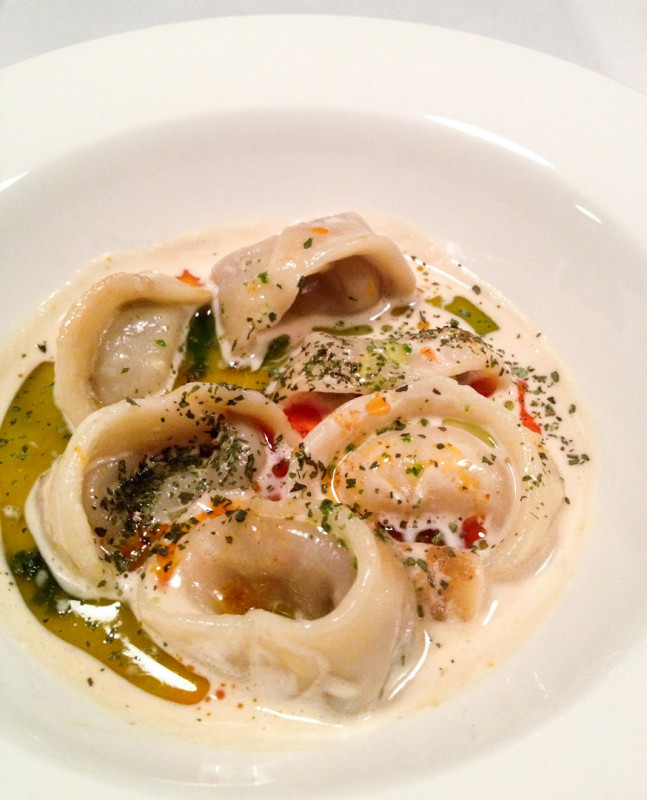 We were in need of good food and a bottle of wine, we did not have a reservation but lucky enough we got a table. By the time we settled down, the place gave us a sense of relief. We were at Yeni Lokanta, Civan Er's new restaurant.
The restaurant itself consists of many rooms opening to each other, high ceilings, lucky for us, we were seated near the oven+kitchen, where we watched Civan and his sous chef sending out the plates, home baked breads resting on the counter…Tables are lit with beautiful hanging green lamps, where the restaurant is left dim, focusing on the table and the food. Unpretentious, friendly, comfortable, chic but not swaggering!
 Both food and wine menu were one page, love at first sight. No need to stroll and get lost in the words as well, just clear cut and precise. After studying the menu, we decided to order 3 cold, 2 hot, 3 from the oven and a bottle of Kınalı Yapıncak by Suvla, wanted something crispy and cold, a local grape to accompany local tastes.
The feast started with the burnt butter, served with home baked toasted bread, then following olive oil braised bass with courgette salad, zeytinyağlı levrek marinata ve kabak salatası, fish is citrusy, fresh and soft at the same time while the courgettes are crunchy, a perfect way to start your dinner, not to mention he was serving this dish on an enamel plate, lovely!  The olive oil braised dried aubergines and peppers stuffed with tamarind rice and pine nuts, zeytinyağlı demirhindili kuru patlıcan biber dolması, still a little warm,  a little sweet and sour from tamarind, the rice stuffing was cooked to perfection, giving you a little bite but not mushy at the same time, all the grains cooked evenly, so delicious!  Then followed spiced green beans with burnt yogurt from Denizli, Denizli'nin yanık yoğurduyla çalı fasulye, just spicy enough for my taste but a little overwhelming if you do not like spicy food and you feel you mouth is blinded, so I left it up till the end.
Dishes kept coming, we ordered our second bottle of white, this time from Corvus, Teneia from Çavuş grape. Spicy Antep sausage with walnuts and luke warm barlotti bean pureé, Cevizli Antep sucuğu, ılık barbunya püresi, was one of the best sucuk I tasted for a long time, made specially at Antep, the meat is not shy from spices and walnut, it is chunky and the meat is from Antep, no need to say more, the best! Barlotti bean pureé cutting down the edginess of the meat taste, great combination, well thought. My other personal favorite was vine leaves wrapped pastırma, melting cheese and tomatoes, asma yaprağında paçanga, using vine leaves instead of yufka has lightened the taste of the dish but the impact stayed the same. Followed by free range chicken thigh with sour hazelnut-parsley chickpeas, köy tavuk budu ve fındık taratorlu nohut, we spooned the chickpeas like no tomorrow, sometimes I can not believe our eating capacity with Şemsa… Tarator and chickpeas was one of the best things on the table, not that I want to differ any of them. The mantı was filled with dried aubergine and this time the burnt yogurt was from Antakya.
Kadayıf fritter filled with custard, smoky ice-cream and honey, muhallebili kadayıf kızartması, isli dondurma ve bal, was too much but ordered any way, did not regret, though leaving half of the dish untouched, but by then I know I will be visiting Yeni Lokanta often.
Civan is emphasising the local tastes with a new touch, Yeni Lokanta is fresh, local, comfortable, simple, eloquent, just what I needed, Istanbul needed, a fresh breath, a new start, new, as its name!
By the way, Civan, I want to steal that coppers you use for serving bread!
Yeni Lokanta address: Kumbaracıbaşı Yokuşu, No:66, Beyoğlu, Istanbul
Phone:+ 90 (212) 292 2550