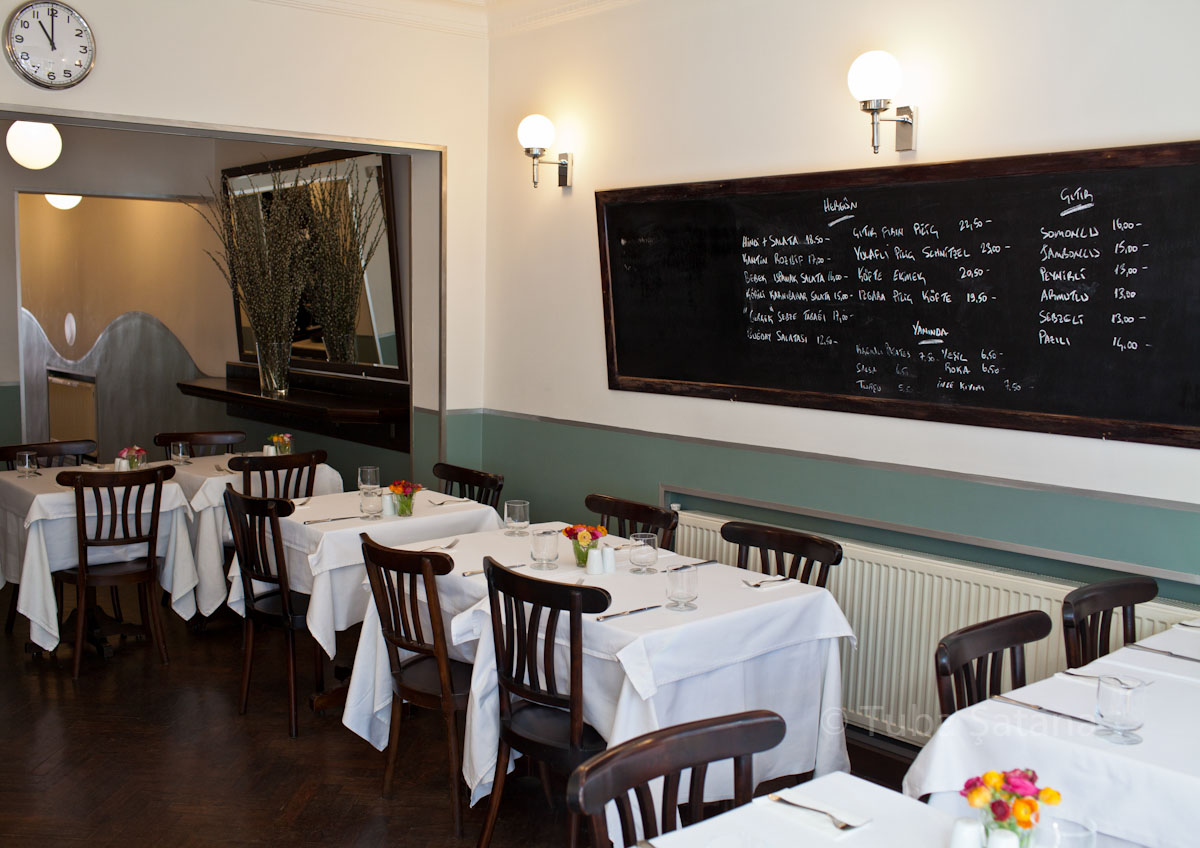 48 hours in Istanbul is never enough! You think you will be thorn in between the Hagia Sophia, a Bosphorus tour, may be a Princes Island getaway, what about Chora Museum and Istanbul Modern? The fantastic sunset from Galata Tower?  It all comes to why you are in Istanbul! Since it is me, I would be after the perfect bite, so here what I would eat in 48 hours -and burst- in Istanbul!
Start with a strong Turkish breakfast at Beyoğlu, İstiklal street, skip the we-have-everything kind of places and go to Lades, order yourself a menemen, delicious egg dish cooked with onions, tomatoes (lots), pepper, butter the better, and dunk your bread in it, sip your Turkish tea!
After breakfast it is a tradition to have a Turkish coffee, thick and strong at Mandabatmaz, to boost up! While there, stop at Üç Yıldız confectionary and buy your loved ones edible gifts. Turkish delight with mastic or with pistachio, marzipan would travel well, if you don't eat them on the way!
Lunch? very easy! Do yourself a favor and go to Kantin! Kantin (if you are along time reader, you'd know)  serves new Istanbul cuisine as my dear Şemsa would call her wonderful cuisine and elegant establishment. Menu is on the black board, changes daily. An upscale touch on the old fashioned worker's restaurants', Kantin is here to serve a Istanbul style home cooked meal, simple, tasty, no fuss, straight to the point, seasonal, fresh.
For dinner, when in Istanbul you should go a meyhane, a tavern, to Asmalı Cavit! The hardest thing will be choosing amongst the meze tray, presented at your table and your choice of rakı, the rest is easy, eat slowly, drink your rakı slowly… As we say, şerefe!
And you woke up hungry again, I would, this time go and have breakfast at Bosphorus,  Çınaraltı Cafe, and watch the ships pass, dream a little dream…
Lunch, stop at Tarihi Karaköy Balık Lokantası, a small fish restaurant, tucked in the small street of Karaköy,  order anything caught your eye, their shrimp skewers and sea bass en papilotte, in parchment paper is legendary.
Something digestive is needed, have something surprisingly delicious, a glass of boza if winter, or a scoop of old school ice cream at Damla Dondurma Boza. Boza isa local drink made from millet, sour-sweet-thick, for me addictive. Try it, you'll love it!
Last night, reserve your table at Mikla, pamper yourself, say goodbye to Istanbul looking over the rooftops, overlooking Golden Horn, Bosphorus… Well you won't notice the scenery when you start tasting Mehmet Gürs' food. New Anatolian cooking, the ingredients are selected attentively, locally grown. Have a prix fix or the tasting menu with matching local wines…
This is just the beginning, so book your ticket for another trip to Istanbul, and stay long this time, also do not forget to book a food tour with me! 
Do drink lots of Turkish tea, because you will be offered a lot of it, while you relax in Turkish hospitality…
Addresses:
Lades: Sadri Alışık Sokak, No:14,Beyoğlu
Mandabatmaz: Olivia Geçidi, Beyoğlu
Üç Yıldız Şekerleme: Dudu Odaları Sok. No:7 Galatasaray,Beyoğlu
Kantin: Akkavak Sokak, No:30, Nişantaşı
Asmalı Cavit: Asmalı Mescit Sokak, No:16/D, Beyoğlu
Çınaraltı Cafe: Çarşı Cad. No:90 Kuzguncuk, Üsküdar
Damla Dondurma Boza: Kurtuluş Cad. No:114/A Kurtuluş, Şişli
Tarihi Karaköy Balık Lokantası: Tersane Cad. Kardeşim Sk. No:30, Karaköy
Mikla Restaurant: Hotel Marmara Pera, Meşrutiyet Cd No:1, Beyoğlu