While we were at the Aegean coast, Sibel and Filiz planned a trip to Urla, Filiz being a local since she moved there so I left myself, my senses, my appetite in her hands, feeling lucky I have friends like them.
We arrived Iskele, Urla at mid morning, after our fulfilling katmer breakfast, we stroll through the old houses of Urla, 150-200 years old, worth around million or millions of dollars, saying hi to esnaf, working an appetite hence we had couple of places to stop and taste local tastes of Urla. One was a local mantı, Urla mantısı.
Urla Mantısı, turning out to be my new favorite mantı, the dumplings were filled with chickpeas, loads of black pepper, little bit of mince meat and little bit of onion. Then the dumplings were fried in olive oil, but so gently, it did not absorb any oil, just crunchy! Served with garlic yogurt and spicy melted butter! The butter and yogurt were as good as mantı, I even had that barn smell, that true taste of the milk. The dough was thick enough to hold the stuffing together, thin enough to melt in your mouth…
Konal Cafe is a renovated old Urla house, side by side with its old bakery, Serap hanım turned it into a cafe where you can have great breakfast and taste börek, gözleme as well as other pastries in which local and seasonal ingredients were used. Sakızlı kurabiye, cookies with mastic, lor kurabiyesi, cookies with Turkish ricotta, kalburabastı, (literally meaning pressed against a sieve to give its lined form) a syrup soaked dough dessert, her famous Urla cookies and more… Or order another plate of Urla mantısı, that's what I would do'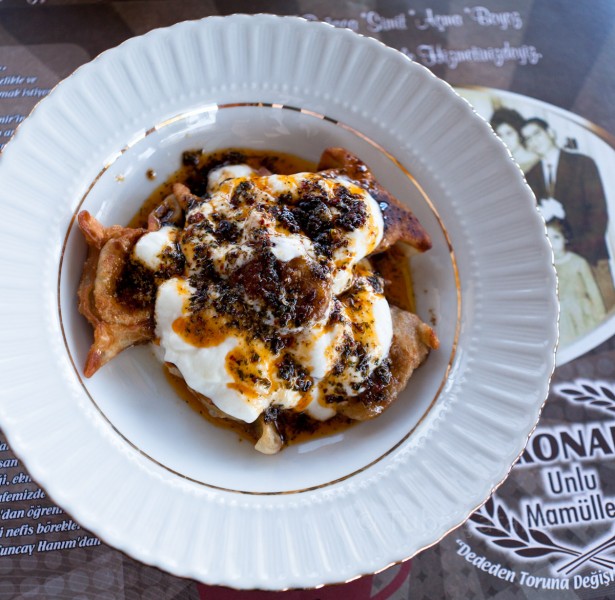 p.s. Call them or stop by and order your mantı beforehand, and they will prepare it for you.
Konal Cafe Address: Camiatik Mah, Zafer Cad. No:1, Urla, Izmir.
While there, do not forget to have a sneak peak in their old bakery!