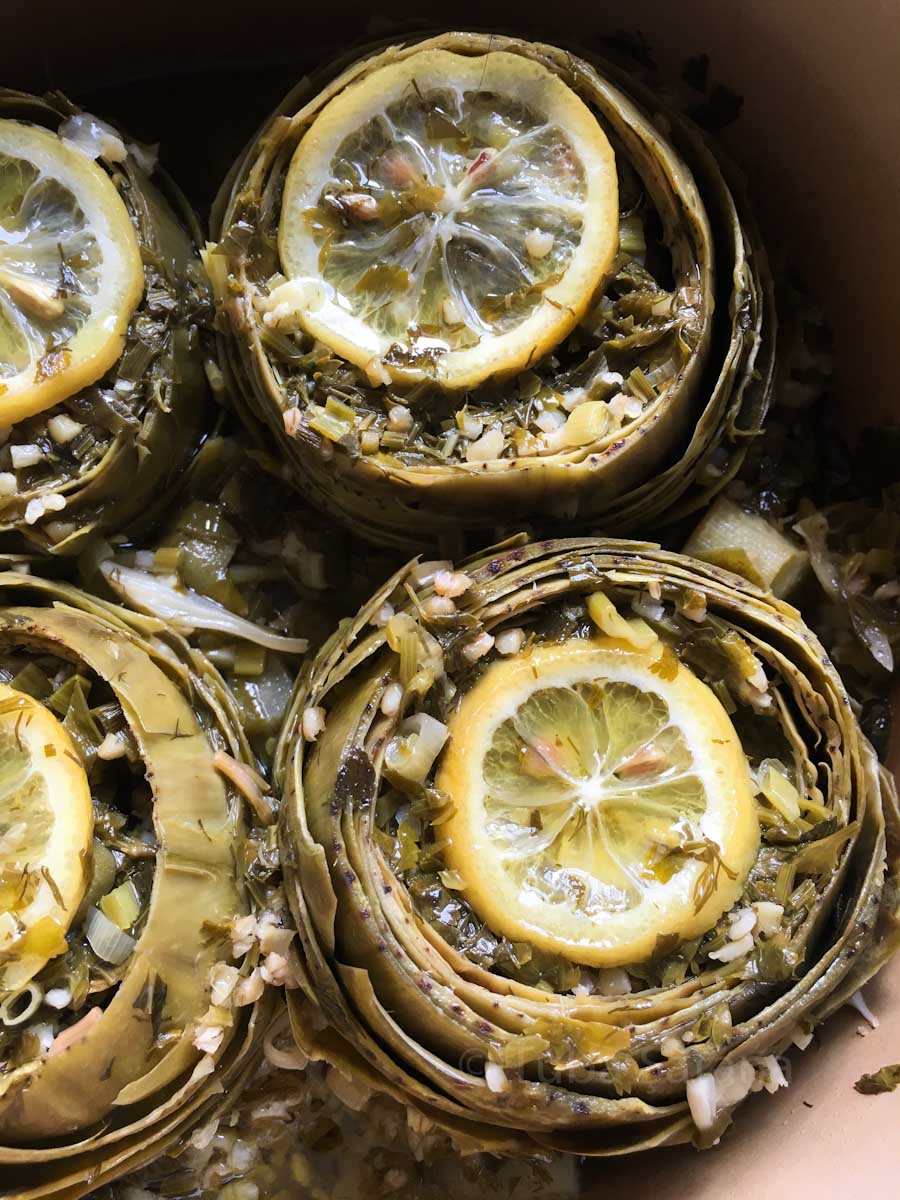 We like to stuff every vegetable in Turkey. So we stuff artichokes too, that is not so bizarre after all. With or without lamb meat would be your choice, but my choice would be with a lot of herbs and a little bit of bulgur.
All winter long I wait patiently, and when I see he first İzmir artichokes in İstanbul, my kitchen goes crazy and not a day passes without cooking and eating it. I simmer, poach, make pilaf, cook it with herbs, fava beans, peas, snap peas, and surely with lamb shanks or neck, eat it raw etc etc…
Last month when mom visited us from Bodrum, I had to urge to cook a stuffed artichoke for her, so there. Being an Aegean woman, she loves every version of it, as I. So I stopped by Erol Usta on my way home and chose my artichokes to be stuffed. Not so big, not so small, as the same size as can be. I was in a hurry so I asked them to clean and trim it for dolma. Hüseyin started at first then me and Erol Usta showed him how it is done. He trimmed the outer leaves, cut the tips, and hollowed out the center, took out the choke. I told him with a spoon next time, not his pointy knife.  (They were not used to prepping artichokes for dolma, %97 eats the artichoke heart only.)
So I decided to write a recipe for the artichoke lovers out there, but I do cook with eyeballing, touching, feeling, seeing, so it was hard for me to put the ingredients as precise as can be, as a list below. And as I like the stuffed artichokes with lots of herbs, and less rice or bulgur, so the recipe reflects. Here you go…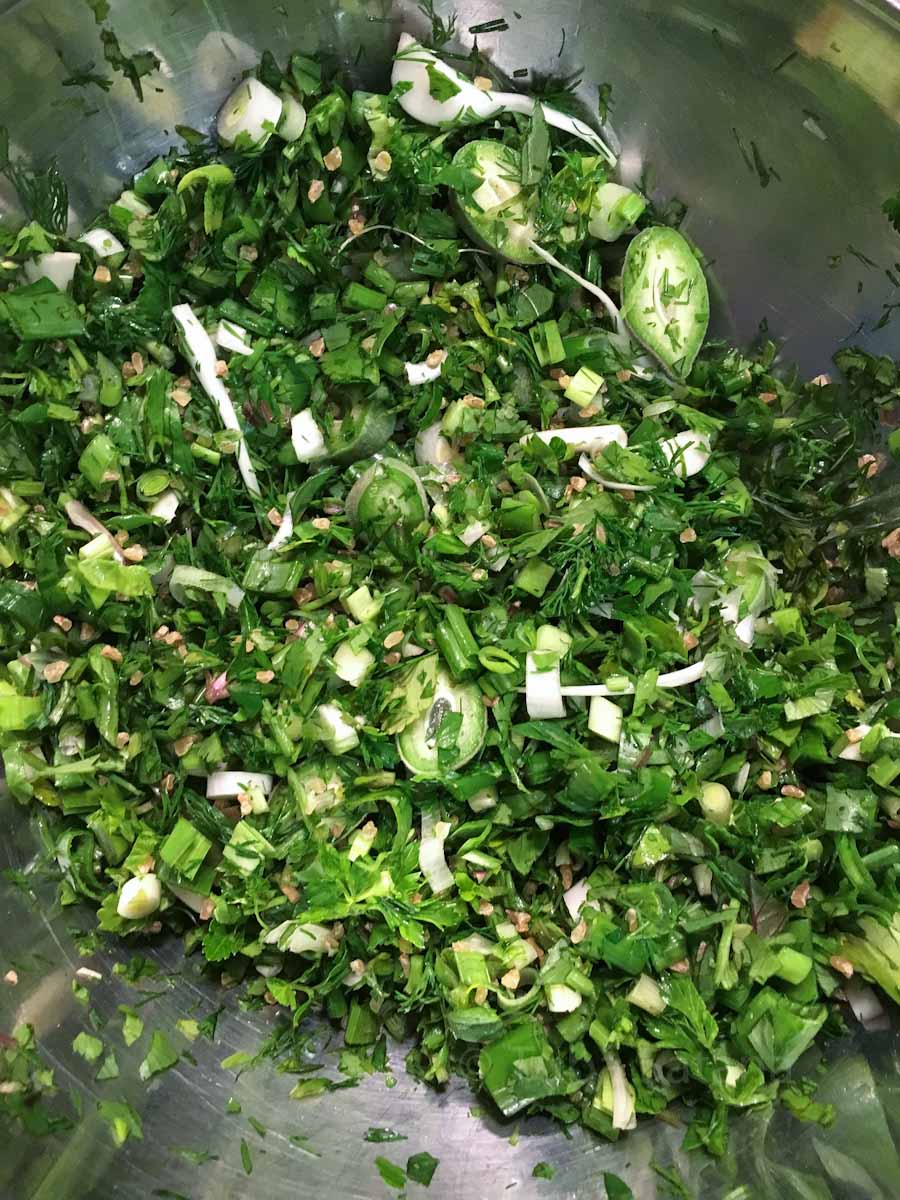 Ingredients:
4 artichokes, pointy leaves trimmed and choked,
½ bunch of each; chopped parsley, coriander, dill
¼ bunch of chopped mint
6 chopped spring onions
fresh green almonds, a handful, optional; çağla
12 fresh garlic cloves whole, if you do not have fresh ones 4 garlic cloves, thinly sliced
3 tablespoonfuls of bulgur, middle coarse
extra virgin olive oil, lots
sea salt
4 thin lemon slices, to put on top of the stuffed artichoke
100-150ml water
a pot with a lid, I used 20cm Le Creuset for 4 artichokes, they fit perfectly
Mix the thinly chopped herbs, fresh garlic, fresh almonds, spring onions and bulgur in a bowl. Filled the cavity of the artichokes with the stuffing, and if any left, put the rest in the pot. Drizzle with fine olive oil, lots of it. Add the water, put the lid on, turn on the stove on very low heat, wait patiently. When you can prick a pointy knife easily in the artichoke, it is cooked. So turn the heat off, leave them in the pot. Preferably cook it in the morning and have it for dinner…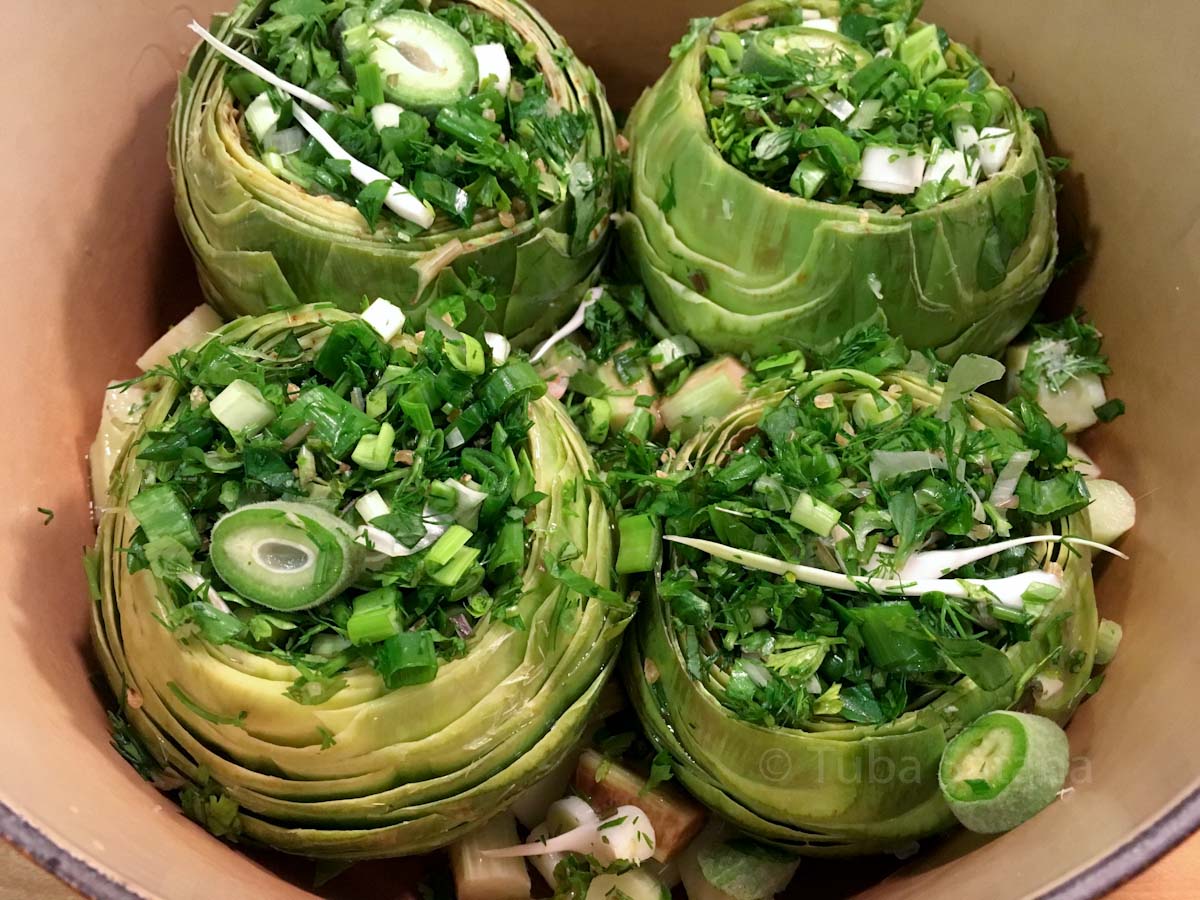 Olive oil makes the difference; dry of perfect dolma, so do not be shy about the olive oil.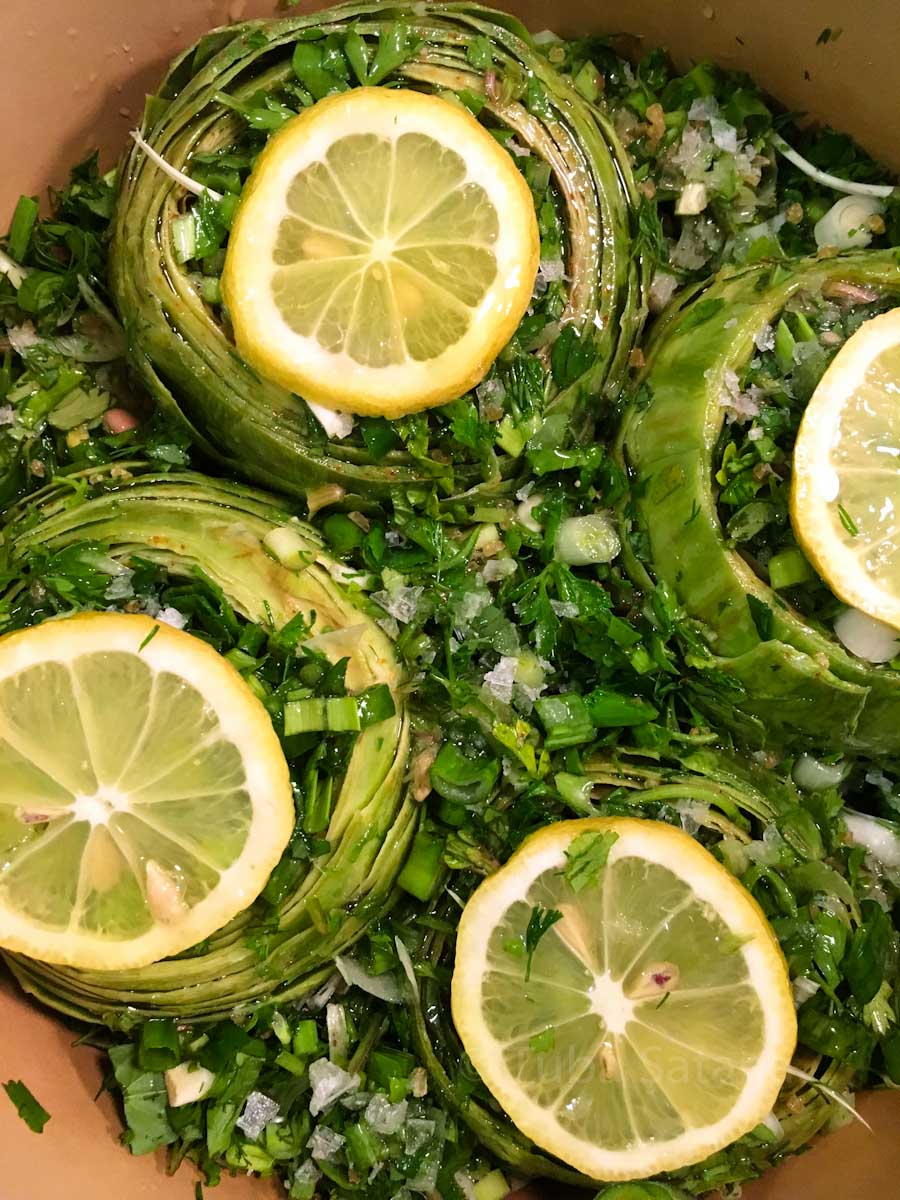 Drizzle the olive oil on top of the artichokes, and add a little bit water in between them.
Ta-daaa!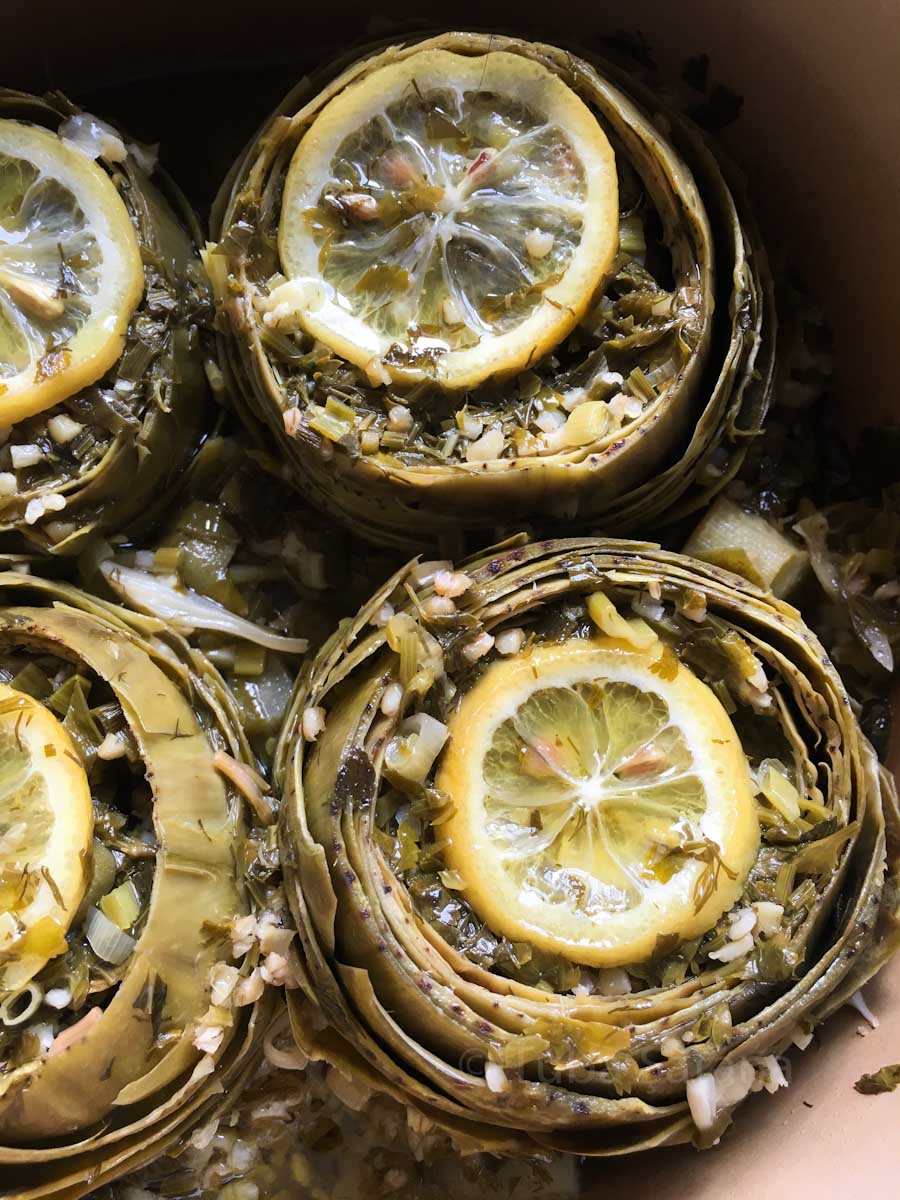 There, you have the first and probably the last recipe on this website, but it worths it, please try it at home.
p.s. 1. The artichokes in the photos are cleaned by me, two different round of stuffed artichoke photos are displayed here. I love cleaning and trimming artichokes myself, it's not easy for first timers, but practice makes perfect.
p.s.2. I do not like writing recipes, nor I am used to it, also I can not describe something 101 but more than 401, so I tried my best here… sorry-or not- about any inconvenience it may cause! I assure you it is damn delicious!