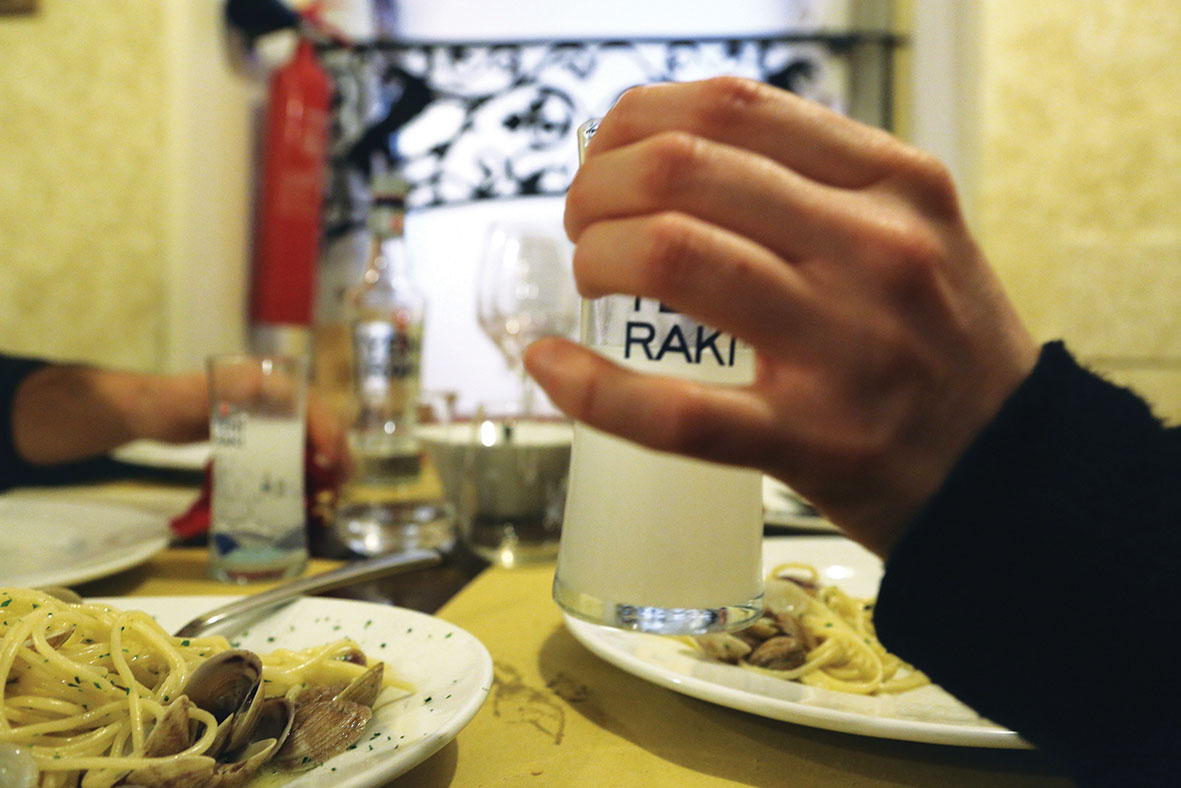 The book opens with the famous words of Ara Güler, "Fish is caught, not with net or rod, but with rakı." –Ne ağ, ne olta, balık rakıyla yakalanır.-  As for sure you have heard us bragging about rakı-balık , rakı and fish, as for sure rakı in our dining culture has been the best comrade of fish and meze. Long hours spent with our loved ones enjoying a sip of rakı, a bite of meze, followed by a seasonal, mostly grilled fish at meyhane.
With a bottle of Yeni Rakı in their hands, they visited Lisbon, Beirut, Barcelona, Marseille, Alexandria, Genoa, Tunis, Tangier, Dubrovnik, Athens starting from Istanbul. Rakı to celebrate every fish scene around us. Every table they have dined around while making this book, they had Yeni Rakı letting the chefs, restaurant proprietors pairing their food with and sharing our passion for rakı.
Tan Morgül, once a child at Kuzguncuk, a lovely fishermen neighbourhood near Bosphorus, told his stories around the sea, the culture, the fish. With Rakı and Fish, A Mediterranean Seafood Odyssey,  you are the best couch traveller, planning for your next trip to these cities, to the fish markets and eating at the restaurants mentioned and if you are me, meeting the people.
One page you are at Lisbon, Casa Lid, the other you are swept to Bernard's home at Marseille. It is not a recipe book, but you may find couple mouthwatering ones. Also not a restaurant guide, but Tan mentioned the characteristic ones in every city, telling their approach to fish and sea.
Rakı and Fish is an odyssey, rather timeless, rather enchanting, rather colourful. Full of life, lives around the sea, around different tables of Mediterranean cities. This book is important to underline the culture around the food, and that we can analyse through ingredients, cooking methods and dinner tables, a geography, a city, the culture, the people, habits, living, and that the food connects us. From the history of the cities to their daily chores, you learn a great deal, dissolving in it.
The photos take you to the places, cities, tables, fish markets, to the sea and beyond. You feel you are inside the story all thanks to Stratis Vogiatzis. The illustrations belong to Ceren Oykut, whom added a significative touch to the book. You literally can spend minutes looking and examining every line. They are fun, all has stories hidden and wonderful. Editor is Nazlı Pişkin, a keen researcher on Turkish food and cooking and history.
Yeni Rakı of MEY, the biggest brand in rakı production in Turkey, sponsored this amazing book. Too sad it can not be sold in Turkey due to the new regulations in alcohol and spirits marketing legislation brings, so Tan published the book in English. Lucky for you, too bad for the Turkish speakers.
And it makes me proud to announce that Rakı and Fish is chosen to represent Turkey on Gourmand Best in the World Competition. Well, it will not be surprise if it gets the award. Go Tan!
Order it from Amazon, Rakı and Fish you will not regret it!
Photos, courtesy of Stratis Vogiatzis