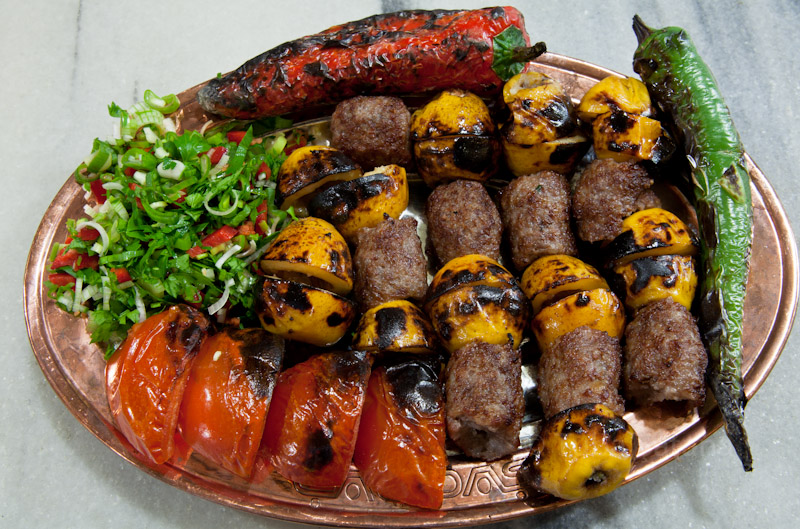 In Gaziantep fruits are a big part of the cooking. Kebabs get their share as well, not to mention they change seasonally.
Keme mantarı –desert truffles- announces the coming of spring, then yenidünya kebabı -loquat/medlar- follows, last for spring is sarımsak kebabı – the whole bulb of garlic-. Keme mantarı after being pierced with a special tool, called keme deleceği, skewered with the mincemeat and ready be grilled on the charcoal fire.
This is how it is prepared by everyone, as seen below in the pic as well, a skewer of keme kebabı, but one guy begs to differ, Şirvan Payaslı of Şirvan Kebap, who in Gaziantep mince the meat together with desert truffles then makes kebab with that mixture. Desert truffles complimenting the taste of the lamb, uplifting, nutty, earthy and it was one of a kind.
Then comes the yenidünya kebabı loquat/medlar which is a definitely my taste, the one I wait a whole year for! It is prepared when the loquats are a little sour, not very soft and little unripe, some parts still green. That is the right time to make the loquat kebab. In Gaziantep at İmam Çağdaş, it is halved and skewered with the mincemeat and served as a platter. Whereas in Istanbul at Çiya, after grilling, they sweat them with tomatoes, peppers, little pomegranate molasses giving the extra kick, and this extra cooking process release the sweetness and sourness of the caramelized fruit better. All the juices are combined at the bottom of the plate and I basically spoon them if any left after making wraps…
Garlic kebab… Actually, these two words are enough, but let me entertain you more. The whole bulb of garlic and the meatballs are grilled on charcoal first, then put in a metal pot or serving dish, added some water and little pomegranate molasses (at Çiya, not in Gaziantep) put aside on the grill and left to sweat. This time the extra cooking is needed to soften the garlic cloves. When done, skim the garlic cloves with the help of your knife, layer them on top of pide served with, add the meatballs on top, make a wrap… Are you still reading? Çiya Kebap has all of three in the menu at the moment. Gather up and taste them all. A little tip, order the garlic kebab as soon as you sit down, it takes around 20-30 minutes to cook.
If you are around Gaziantep, stop by Şirvan Kebap to eat that keme kebabı. Address: Ali Fuat Cebesoy Bulvarı, across Grand Hotel. While you are there have a piece of zeytin böreği and a lahmacun for me!
p.s. You may find more about Gaziantep cuisine in our book Güneşin ve Ateşin Tadı/ A Taste of Sun and Fire, published by Yapı Kredi Yayınları. All photos are taken by me.